KEWB Convertible Furniture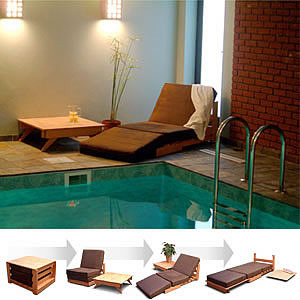 If you are low on space, you have to make every piece of furniture count. Which means making sure everything is multi-functional. This KEWB Multi-functional furniture has four different things it turns into.
It is covered in faux suede and can easily switch between positions. It goes from a table to a chair with an end table, to a lounge chair and then to a bed. It also sets up to be a cute little Asian style dining area. Hopefully it has some way to keep the cushions from sliding around. I've had a couple different places I lived that I would have killed to have something like this around.
The KEWB isn't exactly cheap, it's priced at about $630.
KEWB multi-functional furniture [via popgadget]