Kenwood eXcelon DNX9140 touchscreen navigator with Parrot Bluetooth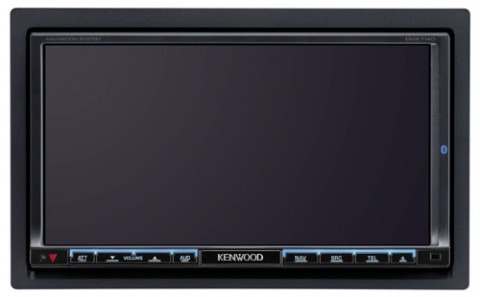 Kenwood have announced [via] a set of new in-dash touchscreen navigation and media players, all but one of which include Parrot Bluetooth functionality for using the system as a hands-free kit.  The range kicks off with the eXcelon DNX9140, Kenwood's new flagship, with a DVD player, 6.95-inch WVGA display, integrated Garmin navigation, and voice control.  It's also capable of 5.1 surround sound, via an onboard decoder, and can link to and control your iPod, iPhone or mass storage device.
The Kenwood DNX7140, meanwhile, has many of the same features as the flagship, and is able to not only act as a hands-free kit but perform SMS texting and wireless A2DP audio streaming over Bluetooth.  There's also a vehicle mileage tracker for monitoring vehicle maintenance and gas mileage, with pre-programmed reminders of upcoming service requirements.
Finally the DNX6140 and DNX5140 have smaller, 6.1-inch displays, with the extra space taken up by a control knob.  They also have Garmin navigation, together with DVD, MP3/WMA compact disc, iPod, iPhone, external mass storage devices, satellite radio and HD Radio compatibility (some of which require adapters).
Both the Kenwood DNX6140 and DNX5140 will be available this month, with MRSP of $1,250 and $1,150 respectively; the latter lacks Bluetooth functionality.  The Kenwood DNX9140 will be available in May 2009, with an MRSP of $2,000; the DNX7140 will be available in March 2009, with an MRSP of $1,700.
Press Release:
KENWOOD LAUNCHES 2009 IN-DASH DVD RECEIVERS WITH BUILT-IN GARMIN GPS NAVIGATION

Kenwood USA Corporation has introduced the new generation of Kenwood DVD receivers that incorporate GPS navigation software from industry-leader Garmin.

For 2009, Kenwood is expanding its double-DIN DVD receiver lineup to include a new flagship model, the Kenwood eXcelon DNX9140 ($2,000 suggested retail price). This is a "best-in-class" DVD receiver with 6.95" high resolution WVGA touchscreen control, built-in advanced navigation technology by Garmin and the industry's most comprehensive voice control system that provides the utmost in hands-free operation. Kenwood's voice control feature allows the user to fully operate the navigation system and utilize features such as entering addresses, choosing menu options and selecting points of interest. The voice control system will also operate the audio and video systems, allowing the user to control any of the connected or built-in sources with common functions such as search, selection, and display information as well as manage audio control functions. Through the addition of built-in Bluetooth by Parrot, the DNX9140 has compatibility with the widest range of cell phones and smartphones including iPhone and BlackBerry. High performance audio is made possible through an on-board DSP processor, providing true 5.1 surround-sound and digital time alignment. The DNX9140 has an advanced USB platform that supports high-speed operation of iPod, iPhone, mass storage devices, and Kenwood's Advanced Bus (KAB) that allows connection to satellite radio and HD Radio (optional iPod, HD Radio, M/H or satellite radio accessories are required). In addition, the DNX9140 will have the ability to connect to an M/H digital television tuner when it becomes available from Kenwood in 2010. Last but not least, the DNX9140 offers variable key illumination. This feature allows the user to match the look of the backlit buttons along the bottom of the screen to their interior lighting. The DNX9140 carries a two-year limited warranty and is only available from authorized Kenwood eXcelon retailers.

The DNX7140 ($1,700 suggested retail price) shares the same advanced Garmin navigation platform and Bluetooth technology by Parrot as included on the DNX9140. The 6.95" LCD touchscreen panel provides easy manual operation of all audio, video and navigation functions. Hands-free phone operation is made possible through the built-in Bluetooth module, which also supports SMS texting and wireless A2DP audio streaming, and is updatable to remain compatible with the newest mobile phones and hand-held e-mail devices. The DNX7140 also features a vehicle mileage tracker that will monitor vehicle maintenance and gas mileage, with pre-programmed reminders of upcoming service requirements.

The DNX6140 ($1,250 suggested retail price) is a value-added combination of cutting edge technologies, intuitive user interface and great Kenwood quality. With the Garmin navigation and Parrot Bluetooth built right into the unit, the DNX6140 offers the latest in technologies at an attractive price. A compact front-panel knob is included to easily control volume, while a front-panel mini A/V input allows for convenient connection of a portable device, such as digital camera or camcorder. A 6.1" LCD touchscreen panel gives the user complete control over multiple audio and video sources, including DVD, MP3/WMA compact disc, iPod, iPhone, external mass storage devices, satellite radio and HD Radio (optional iPod, HD Radio or satellite radio accessories may be required). The user can customize the look of the DNX6140 in many ways; variable color illumination can match the interior lighting of many vehicles, while the background and startup screen graphics can be changed to show personal photos or the brand logo of the vehicle. For customers that wish to add Bluetooth at a later time, Kenwood offers the DNX5140 ($1,150 suggested retail price) which has all of the features of the DNX6140 but with the built-in Bluetooth module deleted.

Model Sugg. Retail Price Availability

DNX9140 $2,000.00 May, 2009

DNX7140 $1,700.00 March, 2009

DNX6140 $1,250.00 January, 2009

DNX5140 $1,150.00 January, 2009