Kenwood begins shipping multimedia receivers with CarPlay, Android Auto support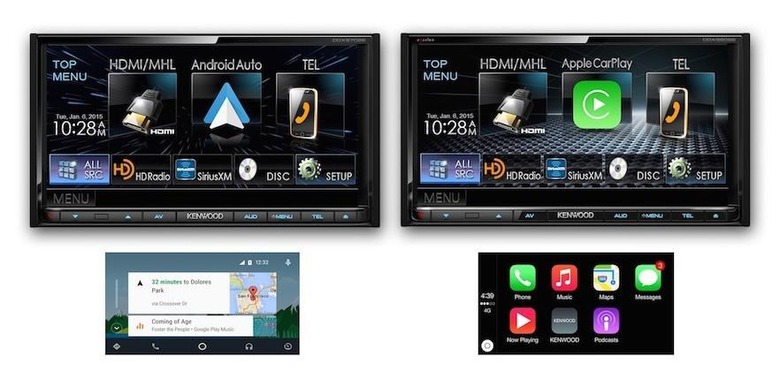 Kenwood has announced that its first multimedia car receivers with support for Apple's CarPlay and Google's Android Auto are now shipping to retailers. The company says that these two models are considered their new flagships, as aside from the smartphone infotainment integration, they offer a number of premium features. The receivers were first unveiled at CES this year, but now we have the prices to go along with them: the Excelon DDX9902S will sell for $950, and the DDX9702S for $900.
Kenwood boasts that its two latest offerings are the currently the only aftermarket receivers that can switch between CarPlay and Android Auto without needing to reset or manually change settings. This means users simply need to plug in their chosen device, and iPhone or Android device, and use the infotainment system and apps they prefer. It goes without saying, this will be incredibly useful when multiple drivers share the same vehicle, but have different phones.
Each of Kenwood's new DDX units feature a 6.95-inch touchscreen display, and come with Bluetooth for handsfree phone use or streaming media playback. The screens can also serve as viewers for back-up cameras, although they are sold separately. Other features include HD Radio, SiriusXM compatibility, DVD playback, and native control for the Pandora and iHeartRadio music services.
As is standard with CarPlay and Android Auto integration, users are able to perform a variety of smartphone functions with voice control and touch input. This includes reading and replying to messages, hands-free phone calls, and using either Apple Maps or Google Maps for turn-by-turn navigation.
SOURCE Kenwood