Kensington offers the Contour Balance laptop bags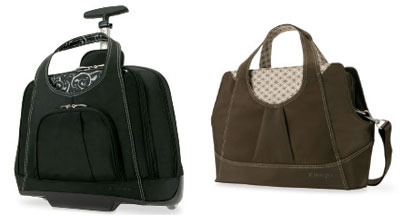 Kensington is offering a line just for the women who need to tote about their laptop on a regular basis. Although they don't offer bright and shining colors, they do offer a slightly more logical design.
One of the bags offered is on wheels and although I really don't like the idea of rolling my laptop around, I understand the necessity for some. I myself have a bad back and have on occasion not been able to carry my laptop bag. The Contour Balance bags are made to be ergonomic, compact and made from water-resistant fabrics.
They also feature a impact-resistant laptop compartment. The bags come in three different designs, one having the classic shoulder strap design, another a backpack and the third being the handy one that you can wheel about. Prices have not been announced just yet.
[via techdigest]