Kempler & Strauss W PhoneWatch breaks cover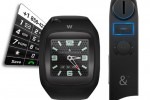 There is something both geeky and alluring about the thought of having a mobile phone built into a watch that you can wear. Watch phones are nothing new, we have seen them before with products like the LG GD910. A new watch phone has been unveiled from a company called Kempler & Strauss called the W PhoneWatch.
The device is claimed to be the world's smallest full-function GSM quad-band cell phone watch. The watch promises the same sort of features found in many full size phones with a touchscreen interface, still camera that can record video, and productivity applications. The touchscreen is operated by finger rather than a stylus, which may make the small numbers hard to hit for some users.
The device has a built-in music player and has 4GB of storage via microSD card for music, video, photos, and voice recordings. The device supports Bluetooth connectivity and includes the Communicator that allows the user to control the W PhoneWatch from up to 16 feet away. Using the Communicator users can place and receive calls and listen to MP3 files. The watch weighs 48 grams and has a noise-cancelling mic. The screen is 1.5-inches and the device will sell for $199.