Kempler & Strauss Billionair 7 GSM quad-band 3.5G phone launches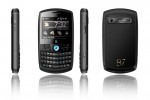 Kempler & Strauss has been very busy over the last week with new products being introduced. First we were hit with the cool W PhoneWatch with its included Communicator. Today the company is back with the official launch of its Billionair 7 mobile phone.
The handset is hailed as the first business-class GSM quad-band 3.5G phone that runs Windows Mobile. The handset offers a full QWERTY keyboard and a frameless touch screen to allow fast and easy text messaging and email. Inside the handset is a 624MHz CPU that supports advanced applications and multi-tasking.
The Billionair 7 also has a front facing camera for video conferencing and one on the back for taking pictures. The handset is compatible with HSDPA technology and has integrated 802.11g Wi-Fi and Bluetooth capability. The camera is a 3MP unit with digital zoom that can capture video as well. A built-in microSD card slot supports up to 8GB of storage. The handset is available now for $275.