Kanye and Kinect: Yeezus tour utilization and live motion capture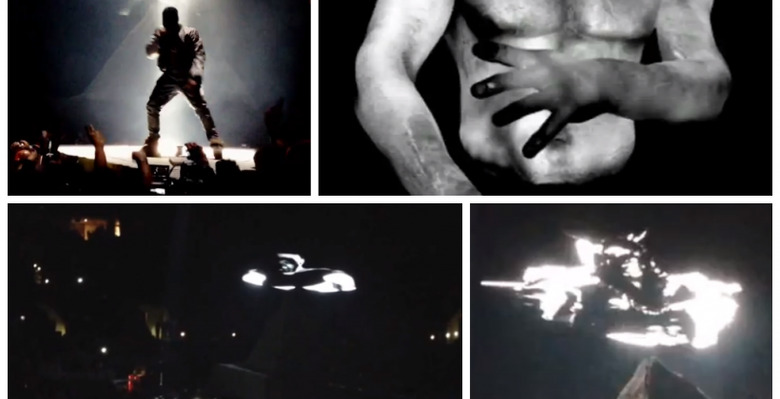 For those of you lucky enough to have caught Kanye West's Yeezus tour as it came down upon the earth over the past few months, you'll have witnessed the world's first live concert utilization of Microsoft's Kinect. The piece of the concert in question here was when West sang Black Skinhead, heading to the front of his architectural wonder to a piece of the stage that bounced. Up in front of this piece of the stage was a Kinect.
Using the Kinect – likely the PC-bound version of this unit, not the Xbox Kinect – Kanye's visage was captured and sent up to the big screen. Above this stage's mountain centerpiece was a circular LED display. One massive circular display, one which showed a body moving to the same beat as Kanye below. The image you see above is a piece of the short Instagram video shared by Kanye West's creative director partner Virgil Abloh.
Nod to all the young creative director kids playing with the new technology. Live Kinect. #yeezustour
First you're going to see a far-off view of this bit of the concert. Here you'll see that the syncing of this system isn't perfect – there's just a bit of lag between the artist's movements and the rendering up on the screen. You'll also see the slight transformation of the character on the screen as the song goes on.
Next you'll see the "unfinished" Black Skinhead music video which also uses motion capture technology – almost certainly the same Kinect energy at the base. Here you're also seeing several more kinds of rendering, including tracking of more than just the basic bulk of the body.
Film and architecture journal Interiors published an in-depth look with Arch Daily at the Yeezus tour this week with confirmation of what they call a "Microsoft Xbox Kinect" sensor, though we're still pretty sure it's the same technology in the PC iteration, not tied down to the Xbox itself.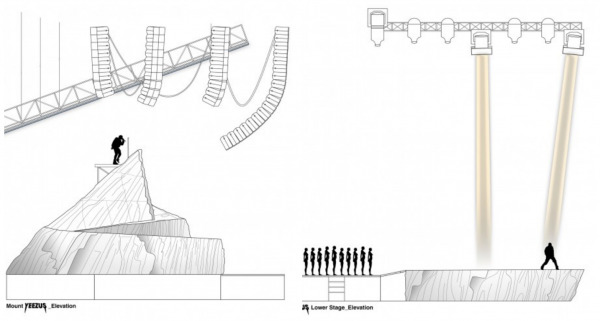 Above you'll see two images from Interiors, one showing the mountain backdrop for the show with the display above, the second showing the extension of the stage where the Kinect was positioned. This front edge had just a few feet of space in front of it before the crowd, and the image was pushed to the display in massive form above.
What's most surprising about this whole situation is the relative lack of attention its gotten from Microsoft. Generally unique uses of devices made by Microsoft like Kinect are given lots of love – here it's appearing to go relatively unnoticed. It's likely the connection just hasn't been made for no especially good reason.