KAKKOii WOW Bluetooth Speaker Review
Welcome to the modern boombox, a brightly colored speaker from KAKKOii (Japanese for "cool") that connects with Bluetooth and goes by the name WOW! This speaker is also known as Without Wires and – surprise – connects directly to your smart device with Bluetooth and plays all the audio you want, like mad! The biggest draws you're about to see here are durability, uniqueness in form factor, and sound power.
The first thing you should look for in a Bluetooth speaker such as this is one of two things – depending on what kind of person you are, you may want to start by seeking out the unique factor. The WOW speaker has that – it's got a bit of a rounded triangular base, silicone surrounding most of its body in one of five different solid colors, and is really, really comfortable to hold in your hand. It's made to be a sort of Art Object, looking nice on your modern desktop or peeking out of your backpack.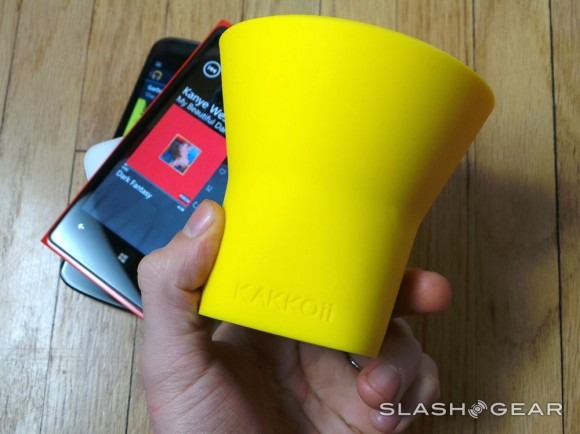 The second thing you should look for – or you could alternately look for, of course, if you only need one greatness – is sound quality. This device blows the hinges off your bicycle with 85 db sound output – that's enough to fill a small room full of college students without a doubt. And also if you are planning on tossing it into a room with a load of college students, you'll rest easy knowing that its mainly silicone coating makes it extremely durable.

This speaker doesn't come with any damage-proof guarantee, but we've dropped it more than once and haven't even heard a skip in the connection to our wireless devices, much less felt it break. The WOW speaker has a built-in rechargeable battery that'll last you around 4 hours, and certainly no more than 5 hours if you're lucky – by our tests, anyway. You'll recharge the battery via a miniUSB port in the base, this being the only open place on the speaker besides the speaker grille on the other end inside the horn.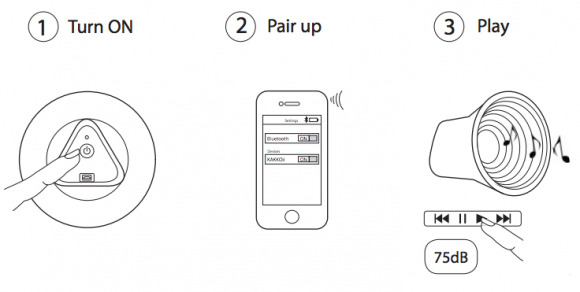 The Bluetooth range on this little monster is between 9-10 meters, that being right around a fabulous 33-feet just so long as you don't have a bunch of walls blocking your way. If you're connected with your iPhone to this machine and get an incoming call, you can rely on its auto-silence mode while you're taking the call and the auto-play mode when you're done – simple built-in excellence!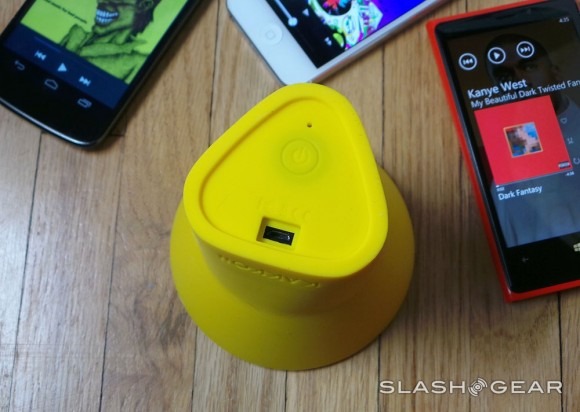 So here's the decision you're making when you're deciding if you want to purchase the KAKKOii WOW speaker: first, you've got to consider that they're going to cost you £55.00 (VAT included) or NZ$99.95 – depending on which of the two countries this device exists in today you're purchasing one from. If you're from the United States, you'll want to consider that this unit will cost you right around $80 USD if you import it. Therein lies the second factor – do you want to import it? You may just want to wait for it to blow up in popularity so rapidly it hits the US shores in the spring of 2013.
Then there's this factor: do you really want a Bluetooth speaker you can toss across the apartment and not have to worry about busting into a million pieces? Yes, yes you do – and with audio power to back it up, audio power like this, you'll be glad you picked up a WOW. It's fun, it's pretty, and it works great!