JVC UX-J51 HiFi sports iPod dock plus CD/radio for retro moments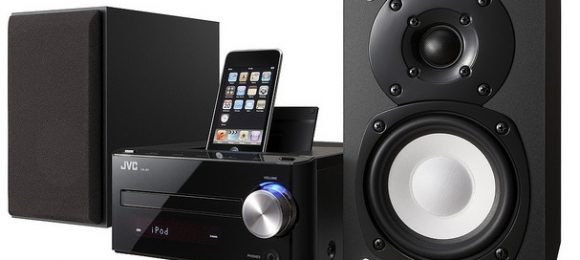 JVC's latest audio system has been unveiled, and the UX-J51 follows in the footsteps of just about every other micro HiFi by slapping an iPod dock on top.  The compact stereo is spattered with touch-sensitive keys and blue LED backlighting, and if you're bored of your iPod (or iPhone) music then you can always dust off a CD or – heaven forbid – turn on the FM/AM radio.
Alternatively there's a USB 2.0 port for hooking up a non-Apple PMP, while other connectivity includes digital optical input and outputs, analog input and outputs, an aux input and a subwoofer preout.  A front-panel headphone socket and a remote control wrap up the key specs.
Power is 40W x 2 and JVC has used two separate amps, one for each channel, which the company reckons will make all the difference.  Still, if you're listening to shoddy MP3s in the first place, it probably won't matter too much.  Out next month for $399.95.
Press Release:
JVC Announces High-Performance Micro Audio System

WAYNE, NJ, September 22, 2010 – JVC today expanded its Procision series of premium-level products with the introduction of a new high-performance micro audio system. The new JVC UX-J51 is a three-piece system that combines class-leading performance with clean, elegant design.

The new JVC UX-J51 is a CD micro component system with a built-in dock for iPod, USB (2.0) input and an FM/AM tuner. It's comprised of a single main unit and a pair of two-way, bass reflex speakers. Most functions are controlled using flush, top-mounted touch keys illuminated in blue, with the exception of volume, which is handled by a large, silver knob on the main unit's front panel. A full function remote control is also included.

A key performance feature is the system's separate left and right channel amplifiers, each rated at 40 watts. The two-way speakers feature a one-inch (2.5cm) soft-dome tweeter and a 4.3-inch (11cm) cone woofer. The audio performance is optimized using CONEQTM technology that matches amplifier and speaker performance to ensure equalized power levels across all frequencies, resulting in a clean, natural sound throughout the listening room.

For system expansion, the UX-J51 includes a digital optical input and output, analog input and output, aux input, and a subwoofer preout. There's also a headphone jack, FM and AM antenna jacks and banana speaker jacks. The system also features a clock/timer.

The JVC UX-J51 will be available in October for $399.95.