JVC GZ-R70 and GZ-R10 rugged camcorders boast quad-proof durability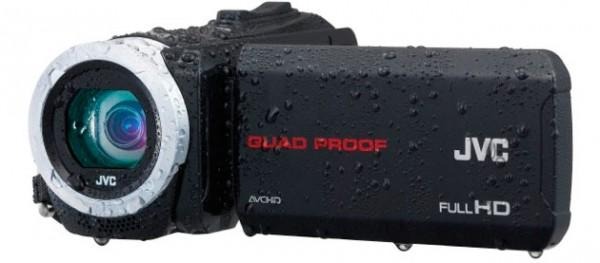 JVC has introduced two new camcorders designed to handle atypical conditions, doing so with what the company calls a quad-proof body: dust-proof, freeze-proof, water resistant, and drop resistant. Combining them all together, the GZ-R70 and GZ-R10 can handle being taken into the harsh outdoors or to other locations where delicate hardware hesitates to tread.
Both models features the quad-proof body design, as well as battery life of about 4.5 hours and 40x optical zoom, as well as 60x dynamic zoom. There's a 2.5-megapixel BSI CMOS sensor, so the camcorder should have at least decent low-light capabilities. Storage comes by way of an SD/SDHC/SDXC card slot, and the lens is a Konica Minolta HD offering. FALCONBIRD is the image processor under the hood, and all is accompanied by advanced image stabilization and a 3-inch touch-enabled display.
Beyond this, both models also feature time-lapse and special effects recording options, as well as 1920 x 1080/60p output. There's an integrated microphone and both auto wind cut and auto illumination light. REC Mode has K2 Technology, and there's auto focus, Touch AE, and Face Detection. The intelligent auto mode allows for automatic settings selection, and all of its is rounded out by an included Everio Media Browser 4.
The differences between the two camcorders comes from the addition of an integrated LED light and 32GB internal memory with the GZ-R70 model, and with the additional colors of red and blue with the GZ-R10 model. The former will be priced at $499.99 USD and the latter at $399.99 USD, with both of them launching some time this upcoming April.