JVC GD-32XI super-slim 1080p display hits Japan in August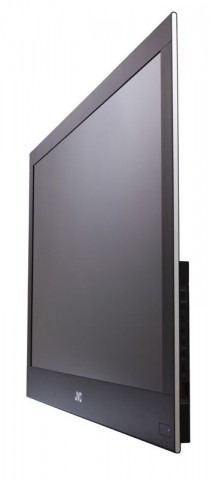 JVC have announced that their GD-32XI – the world's slimmest 32-inch LCD display – will go on sale in Japan come August.  The screen, announced back at CES in January, measures 6.4mm at its thinnest point, and is capable of displaying 1080p Full HD video.
The GD-32XI has a contrast ratio of 4,000:1 and brightness rating of 400cd/m2.  It reportedly manages 100-percent coverage of sRGB colors and 90-percent of Adobe RGB, while cutting the number of necessary parts down by around 50-percent.  JVC's GENNESA image processing tech is also onboard, to reduce motion noise, improve color accuracy and boost still images.
Despite the slender dimensions, JVC still manage to fit a fair few ports onto the GD-32XI.  As well as two HDMI sockets there are analog RGB ports, component and composite connections, an RS-232 and speaker terminals.  There's also an SD card slot and USB port, for viewing images and listening to MP3s.
JVC expect most buyers of the GD-32XI to be business and commercial, planning to shift 10,000 sets a year.  The 1080p display will be priced at the equivalent of around $2,500.
[via CrunchGear]