JVC GC-XA2 ADIXXION action camera takes on GoPro

JVC is getting in on the sports camera action, joining GoPro and Contour with the JVC GC-XA2 ADIXXION, a ridiculously named, ruggedized Full HD camera intended for extreme sports. The chunky little shooter can film at up to 1080 60p/50p – or 720p at up to 120fps for slow-motion use – and packs WiFi and and an integrated LCD display.
The WiFi can be used to stream content directly to a service like Ustream, for live video purposes, or alternatively to send videos and stills to YouTube and other sites. There's a companion smartphone app, too, which can manage the feeds from up to four ADIXXION cameras simultaneously.
The casing is waterproof for depths of up to 5m, and shockproof for drops of up to 2m; it'll also stave off dust and withstand freezing conditions. The whole thing weighs in at 135g and has tripod mounting screws on the bottom and the side; that helps with positioning options, but JVC will also sell you a fetching harness if you want to record exactly what your chest might see if it had eyes.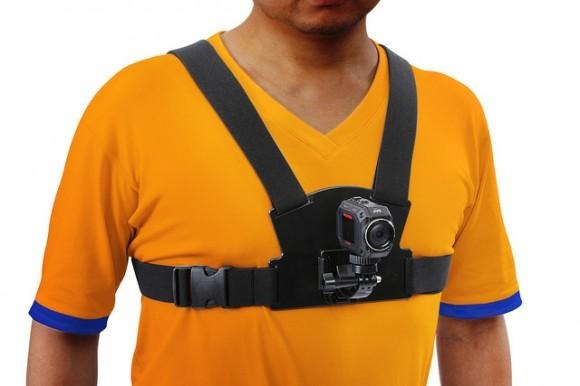 Timelapse photography – shooting stills at up to 15fps – is supported, and there's the ability to shoot photos and record video simultaneously. Four filters can be applied to footage before you upload it, and there's a digital image stabilizer which works with the ADIXXION's integrated gyroscope for better results.
Upfront, the lens offers F2.4 and 137-degree shooting for the most part, though in 960p and still image mode it'll manage 152-degrees. It's paired with an 8-megapixel backside-illuminated sensor.
JVC expects the GC-XA2 ADIXXION to go on sale later this month, priced at $299.95.