JVC Everio HD camcorders at IFA 2008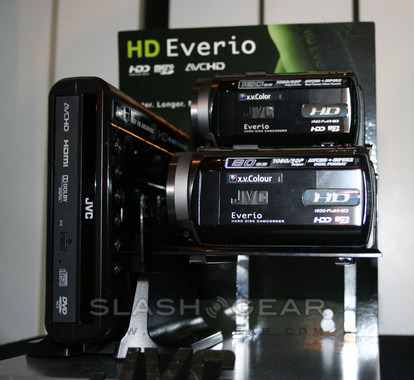 Milena grabbed some hands-on time with JVC's latest high-definition Everio camcorders at IFA 2008 today, together with the easy-archiving Share Station VD50.  The HD30 and HD40 are both hard-drive based, with 80GB and 120GB respectively, as well as having a microSDHC slot for memory expansion.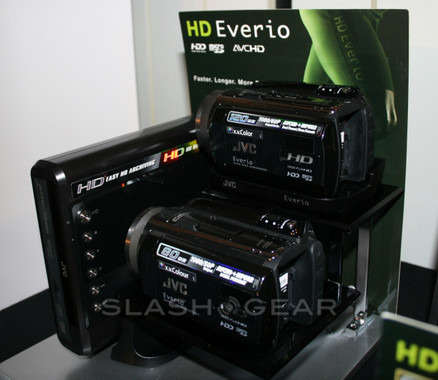 At their highest quality setting, the HD40 can capture up to 15hrs in AVCHD or 10hrs in MPEG-2, and the HD30 10hrs in AVCHD or 6hrs in MPEG-2. Both use JVC's HD Gigabrid video engine, have Auto Light, Focus Assist and Manual settings, and can capture still images while simultaneously recording video (using a 2.68-megapixel sensor).
The Everio Share Station VD50, meanwhile, can connect directly to the camcorders and burn DVDs of stored footage for archiving or sharing.  Both AVCHD and MPEG-2 format media can be stored, in the form of either an AVCHD DVD or an HD data disc.  The Share Station can also connect directly to an HDTV, via component or HDMI, for instant playback.
All three devices are available in the US this month, priced at $1,299.95 for the HD40 and $999.95 for the HD30.