JVC Everio GZ-HM550 Full HD camcorder packs Bluetooth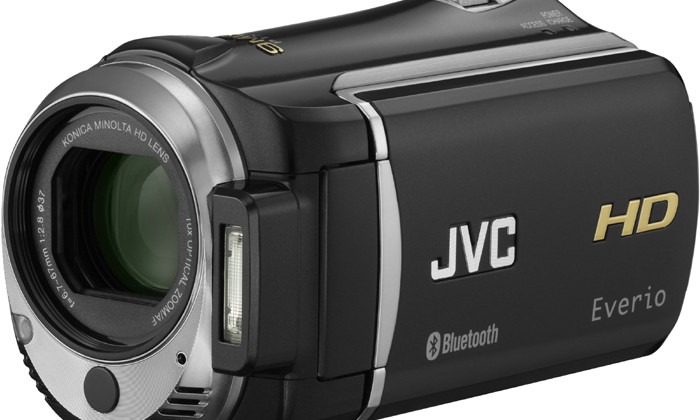 JVC have stuffed their latest camcorder with Bluetooth, but while you might automatically assume the short-range wireless functionality was to be used for media transfers, you'd be wrong.  In actual fact, the JVC Everio GZ-HM550 uses its Bluetooth for remote control, GPS geotagging and even for sound monitoring using a hands-free headset.
If you've ever wanted to remotely control your camcorder from your smartphone, JVC have your back.  An include app – no word on what platforms are supported – allows users to control recording, zoom and playback; alternatively you can pair up a Bluetooth GPS puck and use it to geotag movies and images.  Footage will automatically sync with Google Earth once you transfer it back over to your computer.  Finally, you can pair up a Bluetooth headset, allowing you to either monitor audio being recorded through the GZ-HM550's microphone, or to overlay a director's track yourself.
As for the photography specs, the GZ-HM550 has a 10.6-megapixel CMOS which can record in Full HD and grab 9-megapixel stills, saving files to its 32GB of internal storage or to an SD/SDHC card.  There's a 16x Konica Minolta zoom, face detection and time-lapse recording, and you can set the camcorder to automatically trigger when movement is detected.
All of that comes at a price, however; the JVC Everio GZ-HM550 is on sale now, with an MRSP of $799.95.
Press Release:
BLUETOOTH-ENABLED JVC HD EVERIO CAMERA NOW AVAILABLE

New GZ-HM550 features a 10.6 megapixel CMOS sensor; shoots 9 megapixel stills.

WAYNE, NJ, March 19, 2010 – JVC today announced the availability of a new high definition Everio camera with built-in Bluetooth® wireless technology, allowing the camera to work with a variety of other wireless devices. In addition, the new Everio GZ-HM550 features a 10.6 megapixel CMOS sensor for recording high quality Full HD video and nine megapixel digital stills to its internal 32GB flash memory. An SD/SDHC card slot provides the camera with additional storage.

Among the capabilities the camera's Bluetooth technology offers is control of the camera using a smartphone, geo-tagging of videos and stills and use with a compatible Bluetooth headset.

With the installation of a supplied application, a Bluetooth-equipped smartphone can be used to control the camera remotely, allowing record, zoom and play operations. Use the camera with a GPS device to record location data of where movie and still files were recorded. The data synchronizes with Google Earth™ when viewing the file on a PC using the bundled Everio MediaBrowser software. The camera can also be used with a Bluetooth-equipped headset to monitor the recorded sound or for voice recording.

Aside from offering built-in Bluetooth wireless technology, the GZ-HM550 provides all the quality and convenience features to appeal to consumers who are looking for a high-performance camera in a compact package. Its 10.62 megapixel Back-illuminated CMOS sensor enables shooting of 1920 x 1080 Full HD videos and real nine megapixel digital stills. The KONICA MINOLTA HD LENS is currently one of the world's smallest and slimmest HD lenses, and offers 16x dynamic zoom without any degradation of picture quality. All this is further supported by new technologies that ramp-up basic image quality, including Super LoLux and Advanced Image Stabilizer. Super LoLux improves low-light sensitivity to capture clear images with precise colors even in low-light environments. The GZ-HM500 is also equipped with both an LED light and a flash for shooting in dark situations. Advanced Image Stabilizer ensures steady images even while walking, and is especially effective when shooting bright scenes from full wide to 5x zoom.

Recorded content is stored on the internal 32GB flash memory, with an SD/SDHC card slot to provide additional storage. And like many other models in the new Everio lineup, the GZ-HM550 offers new advanced shooting functions like time lapse recording and Auto Recording. Time-lapse recording makes it easy to create a sophisticated effect — simply set the camera to record in intervals ranging from one to 80 seconds. When played back, hours-long segments will be reduced to mere seconds. With Auto Record, recording automatically begins when a person enters the picture — a convenient solution for home surveillance, recording wildlife, and more. Also Motor Drive Shooting (nine megapixel stills up to 15fps) and Ultra-Slow Motion Playback by high speed recording (up to 600fps) are available.

Digital files created can be easily shared in a variety of popular formats with the enhanced Everio MediaBrowser software for Windows®, which now provides automatic conversion of HD videos for immediate sharing on YouTube™ at HD or SD resolution. Files also can be directly exported to iTunes® and synced with an iPod® or iPhone®, or burned to DVD, all with just a few mouse clicks using the same Everio MediaBrowser application.

To make it easier for the user to find and play any desired scene, the GZ-HM550 offers Face Flow Thumbnail, a feature that displays thumbnails from a particular section of a video by automatically selecting and zooming into human faces. And to make shooting and carrying easier, the camera has a redesigned grip belt that works in two ways — as a conventional handle-style grip when both ends are snapped in place or as a strap when one end of the belt is released.

The JVC GZ-HM550 Bluetooth enabled camera is available now for $799.95.

JVC Everio GZ-HM550 Feature List

HD Memory Camera

32GB Internal Flash Memory and SD/SDHC card slot

1/2.3" 10.62 Megapixel Back-illuminated CMOS Sensor

9.3 Megapixel Stills with no interpolation

16x Dynamic Zoom† (KONICA MINOLTA HD LENS)

Bluetooth® Wireless Technology

Super LoLux

Advanced Image Stabilizer

Time-Lapse REC & Auto REC

One Touch Export*

One Touch Upload to YouTube™* (HD Compatible)

Direct DVD Creation with SHARE STATION®

Seamless Recording over two media

Face Detection & Face Flow Thumbnail

Auto Flash & Auto Illumi. Light

Laser Touch Operation

2-Way Grip Belt

Everio MediaBrowser

†15x when Advanced Image Stabilizer set to ON

About JVC U.S.A.

JVC U.S.A., headquartered in Wayne, New Jersey, is a division of JVC Americas Corp., a wholly-owned subsidiary of Victor Company of Japan Ltd. JVC distributes a complete line of video and audio equipment for the consumer and professional markets. For further product information, visit JVC's Web site at www.jvc.com or call 1-800-526-5308. Follow JVC on Twitter: http://twitter.com/JVC_USA.