Jurassic World Indoraptor Rampage at Lockwood Estate LEGO Review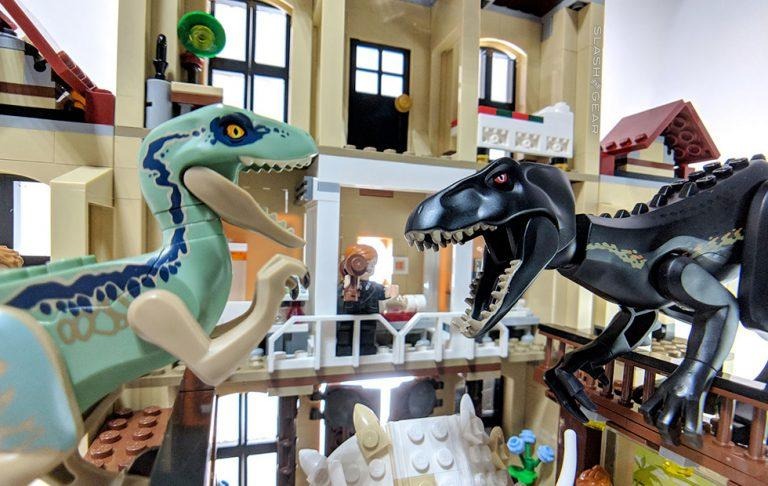 Look upon this mighty work of LEGO artwork and despair! For this is a licensed movie LEGO set, and it probably won't be released more than once! This is the LEGO Jurassic World set 75930, Indoraptor Rampage at Lockwood Estate. It's made for the release of Jurassic World, and depicts a scene heavily featured in the last preview trailers before the release of the film. In this set you'll find no less than 3 (three) dinosaurs with which you can terrorize your minifigures, and have oh-so-very-much fun.
This set is a sort of mix of elements from the LEGO universe. While it's inside the Jurassic Park / Jurassic World realm, it also draws upon LEGO City architecture knowhow. This building looks like it'd fit right in with the rest of the massive number of buildings that fit together fine in a Man Upstairs style setup in one's own completely LEGO-dominated basement.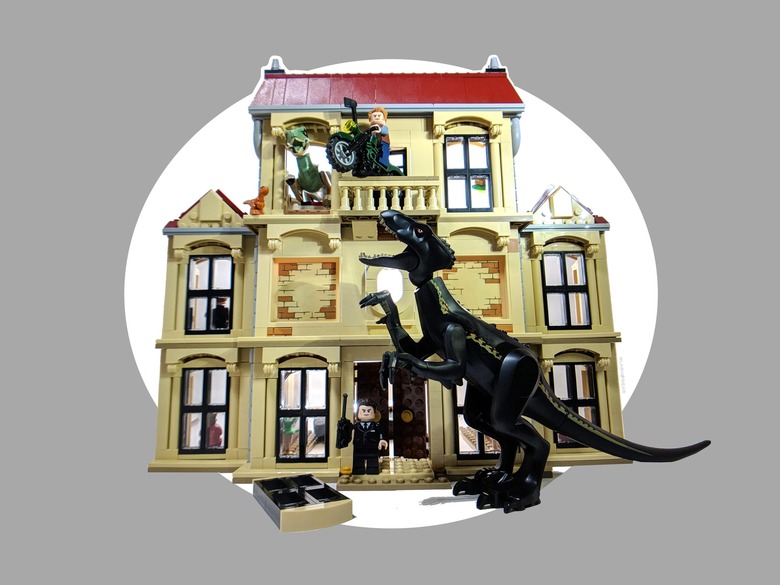 This set also draws upon the very recent and very awesome trend of using certain LEGO elements to create dinosaur skeletons. The ancient skeletal remains of the long-dead dinosaurs now brought back to life by modern science are here, mixed together with high precision.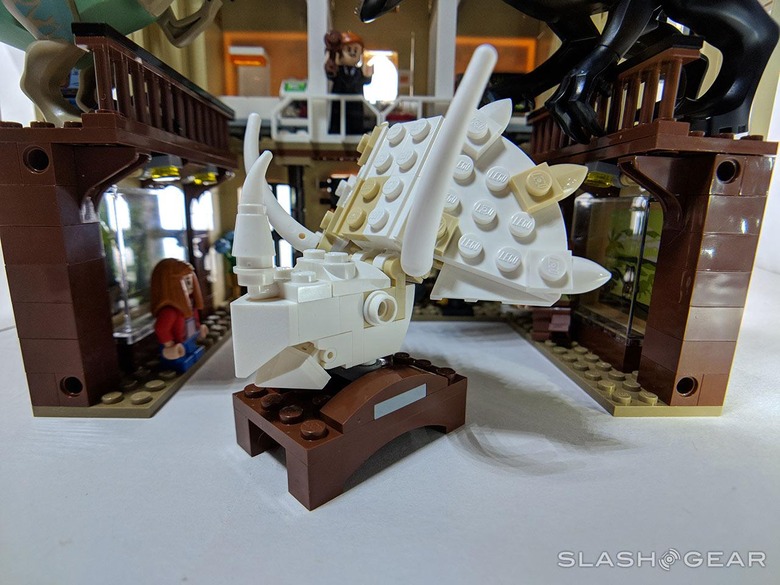 There's also a motorcycle! And no less than 6 (six) minifigures besides the dinosaurs! This set has Owen, Claire, Maisie, Mills, Wheatley, and Eversol, and a baby raptor besides! AW! It's the cutest way to learn the hard way that these creatures are lethal at 8 months, and I do mean lethal!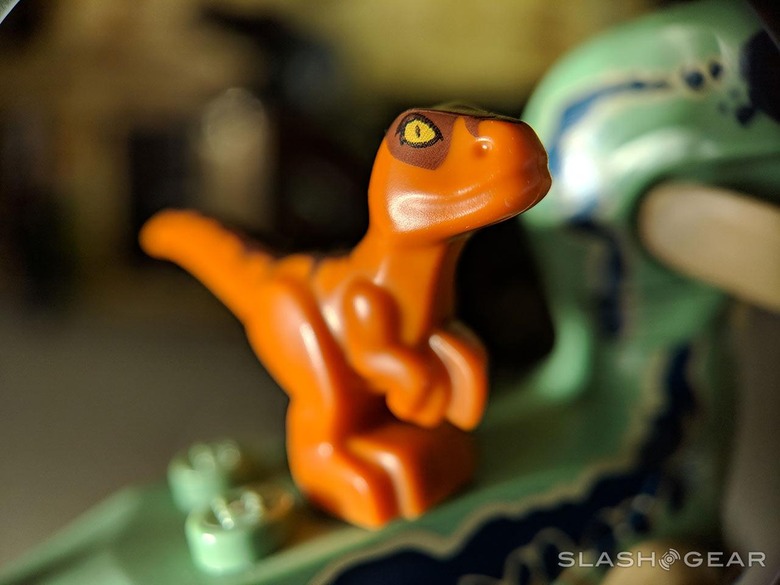 OF Note: There are a number of ways in which you can get one of these Dino Raptor Baby. I at first foolishly assumed she was only in this one set, but I was super duper wrong!
Dino Raptor Baby with Dark Brown and Reddish Brown Back:
• Jurassic World Dinosaur Nursery – Set 10758
• Jurassic World T. rex Breakout – Set 10758
• Jurassic World Indoraptor Rampage at Lockwood Estate – Set 75930
• Jurassic World Carnotaurus Gyrosphere Escape – Set 75929
• Jurassic World Baby Raptor and Nest foil pack – Set 121801
Dino Raptor Baby with Sand Green and Dark Blue Stripes on Sides:
• Jurassic World T. rex Transport – Set 75933
• Jurassic World Dilophosaurus Outpost Attack – Set 75931
• Jurassic World Baby Velociraptor Playpen polybag – Set 30382
Like the rest of the dinosaurs in recent years, these come with swappable parts. This is played up in the set and other Jurassic World sets as a feature matching that of the film's theme: Weirdo Dino Part Swapping. Because everyone knows that making the most dangerous dinosaur is the best idea possible!
The house here has a collapsing roof with skylight window. There are configurable and interchangeable walls. The windows are meant to pop out – and look awesome when popped out for dino-peeking. There's a bed under which that baby dinosaur can hide. There's a lot going on here.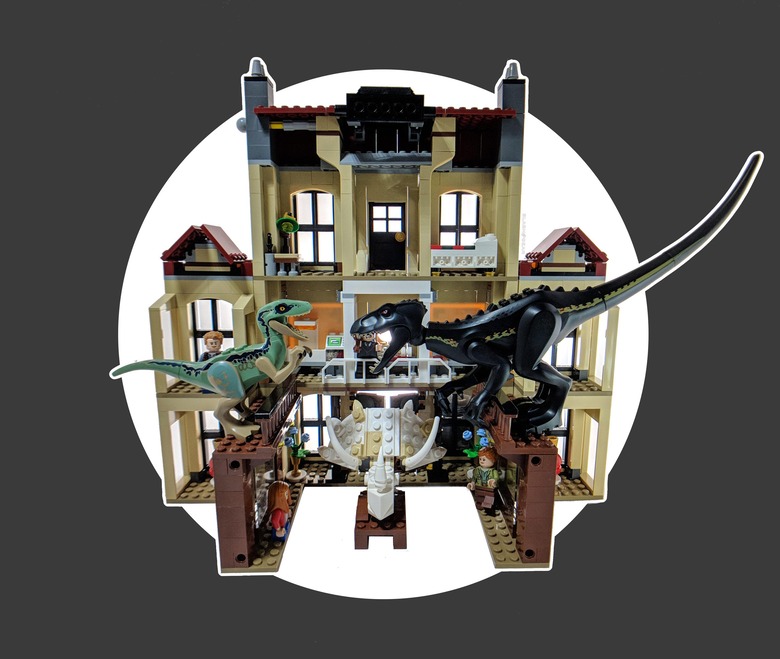 This is set 75930, LEGO Jurassic World Indoraptor Rampage at Lockwood Estate. It's available now for approximately $130 USD at department stores, toy stores, and the LEGO store online. This set has 1,019 pieces inside, and according to the box, it's recommended for ages 8-12, but that's just a suggestion, they have to put that on there. Dinosaurs are for all LEGO-lovers everywhere.