Jumpr Slate Is The Thinnest Battery Backup Available At 6.7mm Thin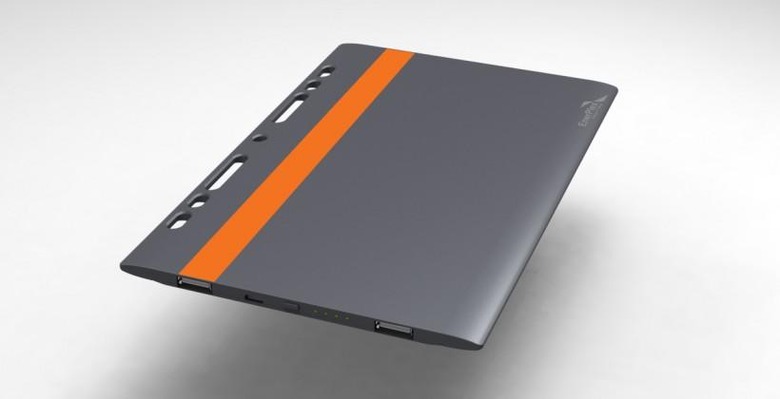 EnerPlex may not be a name you're familiar with, but they're power options are pretty impressive. Battery backups for your mobile devices are pretty easy to find, but can be bulky and clumsy. Here at CES 2014, we caught up with EnerPlex to find out what new stuff thy were bringing to the fold.
Their Jumpr Slate is the world's thinnest lithium polymer battery you can get, and comes with a few unique features. It has some cutouts, which enerPlex tells us is for dropping in a notebook or attaching however you like — to whatever you like. It's 6.7mm thick, but for a battery pack, it's impressively slim. Two full-size USB ports and one Micro USB get you charged, and it is available in 10,000 or 5,500 mAh varieties, running $99 or $59, respectively.
The Kickr II is a flexible, solar charger for your devices. It's essentially the panel from their Packr backpack, though it's uniquely flexible, which EnerPlex tells us they're working on patents for. With three watts of power and a 0.6 amp output, EnerPlex says it will charge your cell phone in under 5 hours. A variety of clips and attachments keep it tethered to anything you can think while out and about. It comes in a variety of colors, and retails for $69.99. If that's a bit much for your liking, there is also the Kickr I, which essentially cuts the output in half, for $39.99.
EnerPlex also has a range of more standard battery packs we like in the Jumpr Mini and Jumpr Stack, should the tried and true form factor be more to your liking. We think the Slate is a unique option, and might be a great option for students who carry notebooks. EnerPlex tells us the slim battery pack will be available at the end of the month.