Juicy Couture Laptop Cases feature bright Spring colors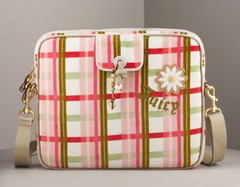 If you're going crazy waiting for the flowers to pop up and add a bit of color to the seemingly brown and gray landscape, you might try snagging a colorful laptop bag to tide you over. This Juicy Couture bag is perfect to remind you of the warm months to come.
If the pink plaid pattern is a bit much for you, Neiman Marcus also offers a solid gray as well as a solid pink laptop bag. All of which feature white leather trim and gold-tone hardware.
Unfortunately the site does not list what size laptops the bags would hold. However, if eventually they decide to post that info the bag is being sold for $125.
[via shinyshiny]