Jobs: "You won't be disappointed" by WWDC 2010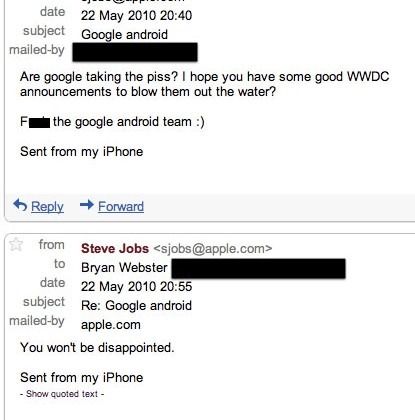 Steve Jobs has been flexing his typing fingers again, this time dealing with the PR fall-out after Google IO last week.  Two iPhone-lovers got in touch with the Apple CEO to ask whether he agrees that Google stands a chance of surpassing the Cupertino company, as well as if he has something particularly juicy up his sleeve at WWDC 2010.
The answers, unsurprisingly, are upbeat.  Steve reckons there's "not a chance" that Google is leapfrogging Apple with the direction in which they're taking Android, and as for WWDC 2010 despite the existing iPhone HD leaks we've seen he still thinks we "won't be disappointed".
Google wasn't shy in taking pot-shots at Apple last week, outlining their dread of a mobile world where one man, one company and one device controls the ecosystem.  They also saved a few choice criticisms for Apple's underwhelming multitasking system, with Vic Gundotra describing it as "bolted on".
SlashGear will be liveblogging the WWDC 2010 keynote on June 7th, so join us at http://live.slashgear.com/ for all the news as it's announced!