jetBook-Lite lays claim to "most affordable" eBook reader title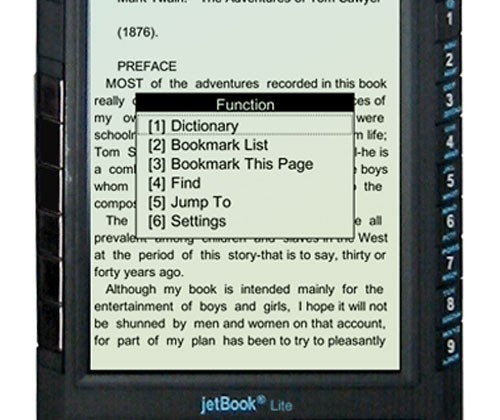 eBook readers are quickly becoming the new gadget to have with lots of high profile offerings on the market like the new(ish) Kindle and the Barnes & Noble Nook coming soon. The common thing about many of these eBook readers is that the price is right at $250. If you are holding out for eReaders to come down another $100 before you buy, the time is here.
ECTACO has announced a new eBook reader called the jetBook-Lite that will sell for $149.95, making it the cheapest eReader on the market. Saving that $100 loses you some of the cooler features of competing products like 3G wireless connectivity and color secondary screens though.
What you do get for that much loot is a device that supports just about any format out there including eReader DRM, ePub, Mobi, PRC, RTF, .txt, .pdf, .fb2, .jpg, .gif, .png, and .bmp. That DRM file format support allows the reader to read books from Barnes & Noble. The device also supports multiple languages and has a built-in dictionary. The screen also rotates for portrait and landscape modes. Power comes from four AA batteries promising 23 hours of run time per set. The screen is 5-inches in size.