Barnes and Noble nook hands-on [Video]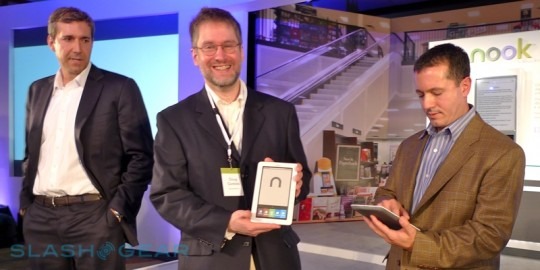 Barnes and Noble's nook may not be the first wireless ebook reader we've seen, but with its dual displays, color touchscreen, compact form-factor and Android OS it's perhaps the most distinctive.  The nook isn't expected to launch until the end of November, but SlashGear were at the B&N launch event in NYC today.  Check out our coverage – and some first impressions – after the cut.Updated with video after the cut
The nook is – at 0.5-inches – thicker than the Kindle 2, though its curved edges help disguise that a little in the hand, and being both shorter and narrower than Amazon's offering will probably make more of a difference in a bag.  Meanwhile the nook weighs an ounce more, unlikely to make much of a difference for all but the longest of reading sessions.  Hardware controls are limited but tactile, with two sets of broad page-turn buttons running along both sides of the E Ink display (each with a small raised nub to make finding them easier).
[vms f29526a11a9b7ac33bfa]
The upper screen is as crisp and as clear as we've come to expect from E Ink's Vizplex panels, obviously lacking in color support, but making up for it with readable, accurate text.  Page refreshes seem roughly on a par with those of the Kindle, but we'll have to see them side-by-side to be sure.  As for the capacitive  touchscreen, that's roughly the same size as an iPhone but only recognizes a single touch at any one time; hopes that you might be able to tap into various Android applications are scuppered, with Barnes and Noble hiding anything recognizably Google under their own UI.
Still, that seems to work reasonably well for navigation, using a Coverflow-style carousel of ebook covers that sweep by with a finger-swipe.  Browsing of the B&N ebook store is either by category or via searching, using an on-screen QWERTY keyboard, and the touchscreen certainly seemed responsive enough for that.
What remains to be seen is how well AT&T's 3G data network holds up to the demands of wireless downloads.  With it being used not only for accessing new content, but for synchronizing bookmarks, annotations and highlighting between the nook and other B&N reader platforms, users are going to have little patience if – like we've seen with the iPhone – the carrier backbone can't handle the extra use.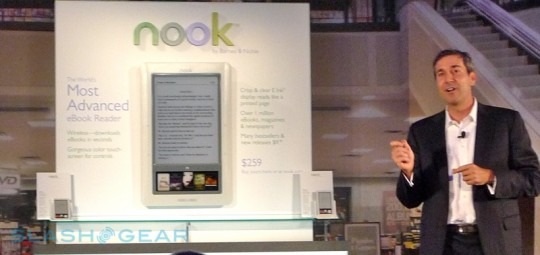 More information on the Barnes and Noble nook's specifications here.  The ebook reader is available to preorder from today, priced at $259, and is expected to begin shipping in November 2009.