Jeff Bezos: "People's jaws hit the table"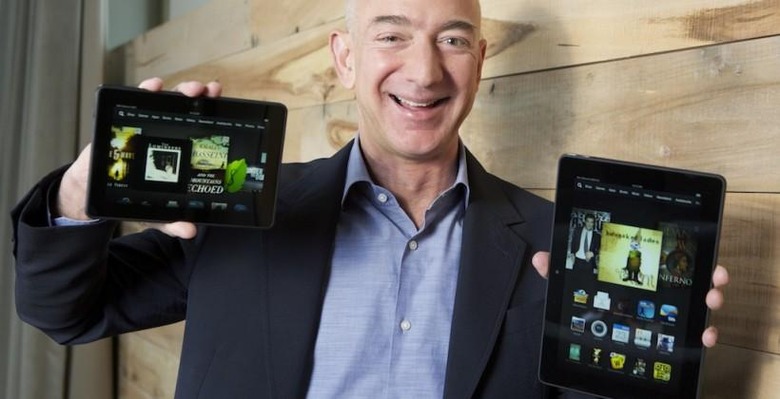 Jeff Bezos is happy. More than happy, he's hooting with excitement. Yes, you might expect that from someone with an estimated net worth measured in multiples of billions of dollars, but today the Amazon CEO (and Washington Post owner, and clandestine private spaceship project Blue Origin founder) has something specific in mind: scraping the wince-inspiring reputation of technical services support away, and – with the new Mayday feature on the Kindle Fire HDX – replacing it with a system that will propel tablets even further into the mainstream and liberate a generation of geeks from unpaid, unofficial duty as family troubleshooter. "Our goal is to elevate that whole tech support experience" Bezos told us today as he walked us through the Kindle Fire HDX range.
It's my first time meeting Jeff Bezos, but – even in a day filled with back-to-back media briefings – he greets you as if he's making a new friend. In fact, it's easy to get caught up in his enthusiasm; a little bit of star-struck admiration, perhaps, for all that he's achieved, mixed with a larger dollop of appreciation for the zeal with which he talks about Amazon's products and the way the company develops them.
Bezos sets the scene with a Venn diagram, positioning Amazon in the middle of overlapping product delight and overall service integration. That, he argues, is only really possible when you control every aspect of your product from the lowest level in the stack: hardware, then OS, then key apps, then the cloud, and finally services on top. Yes, Amazon might have adopted Google's Android, but the company then picked apart every aspect of it across that strata, adapting and finessing and generally making it its own.
"This kind of feature would be impossible to do if you didn't have access to the full stack" Jeff Bezos, CEO, Amazon
Although he's keen on the background – the fettling of software and its integration with hardware – Bezos really comes to life when he's talking about the effect of all that work. Mayday, and the way it brings a helpful customer services agent right to the homescreen of your Kindle Fire HDX, is today's example, and the CEO doesn't mince words about it.
"When we show this to beta testers, people's jaws hit the table," he explained, "because they're so surprised that they're getting a live tech support person that appears on their device." The difference isn't just in user-experience, though; it has to fit with one of Amazon's other tenets, of delivering premium products at non-premium prices.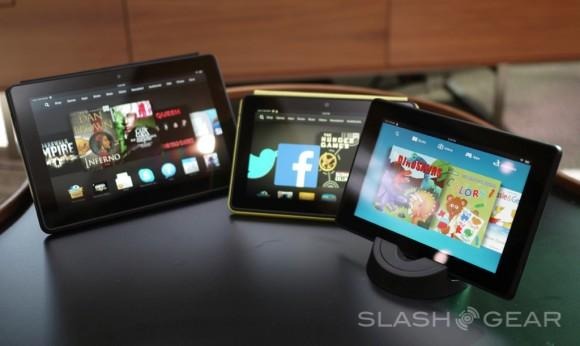 "We think it's going to make us more efficient" Bezos argues, when asked about how much Mayday will cost to operate and how Amazon can afford to bundle it as a free service – 24/7, 365 days a year – with the new range, which consists of the 7-inch Kindle Fire HDX 7, and the larger, 8.9-inch Kindle Fire HDX 8.9. That efficiency may follow after a launch bump, however, something Bezos suggests might be down to new users "showing off" the technology to their friends. "We're ready to hire more people if we need to," he pointed out, refusing to say exactly how many staff are being trained to man Mayday, aside from that it numbers "in the 1,000s."
Video support isn't new, but Amazon's approach to it, perhaps, is. That's certainly Bezos' argument, particularly when challenged with the possibility that Mayday could be replicated as an app by an eager rival.
"It would be very difficult – perhaps so difficult as to be impossible – to do Mayday as an app, at least the way we've done it" he counters. "Clearly you could do an app that just pulls up a Skype session, but allowing someone to write on your screen... yes, you could do it with an overlay, but you can do this with a much higher quality level if you do it down here [low in the stack]."
Kindle Fire HDX Mayday hands-on:
For that reason, he doesn't expect Mayday to spread to other platforms, even though that push for ubiquity is part of Amazon's strategy with Android. "It's absolutely unique. Our approach, for example with our content store, we make it available on a number of different platforms" he concedes. "But there are some things that you can't do on someone else's platform, and Mayday is an example."
Part of that is down to what's going on in the background: the hidden complexity that the user never sees, and isn't supposed to see. There, Bezos turns to the stack again. "If you look at the history of Amazon, this is the sort of thing that we're suited to do, because they marry high-tech with heavy lifting ... This is a big, heavy-lifting feature that combines all layers of the stack."
Is it true, as the CEO suggests, that Amazon is uniquely positioned to deliver something like Mayday? Certainly, while I'd say the list may be a little bigger than Bezos might have it, it's hardly bursting with contenders. Google, obviously, has the same sort of access to the underlying Android stack and the same sort of developer heft that Amazon can call upon; Apple has its legendary Genius Bar providing hands-on assistance.
Yet, despite the potential that's there, Google's customer services has always been a weak point in the company's skill set. Nexus buyers – whether tablet or phone – have complained of underwhelming aftercare, shuttled from retailer to Google and back again when trying to deal with defective hardware or glitchy software. The beta label applied to so many of Google's software products has never been attached to a Nexus device, but the user-experience has sometimes felt otherwise.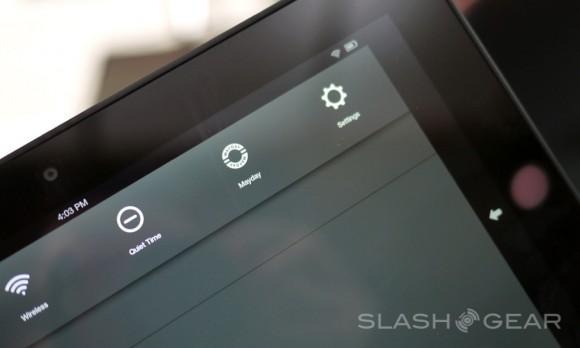 Apple, then? The Cupertino firm has built much of its reputation on making intuitive, easy to use hardware and software; if there was any firm suited to picking up on Bezos' challenge, you might think this was it. The business Steve Jobs created takes a fundamentally different approach to customer services than Amazon, however.
Where Bezos has scythed a path resolutely away from the high street, harnessing the ubiquity and geographical-divorce of the internet, and now with Mayday continues that journey to its dispersed conclusion, Apple remains steadfastly committed to its physical retail presence. Where some have bemoaned the death of the retail store, Apple continues to open more, relying on a careful mixture of product allure, over-and-above architecture, and a sense of dramatic occasion to lure in shoppers. The Genius Bar, with its promise of expert advice not on the end of a premium phone line but maintaining eye-contact, is an integral part of the physicality Apple still insists upon.
Both companies – Amazon and Apple – are profitable, despite the very different approaches to retail. Bezos is also quick to point out his belief that there's room for more than one tablet winner in the market.
Still, those concessions aside, the Amazon CEO is more than confident that Mayday will be the cause of plenty more dropped-jaws in the weeks to come. It's a certainty that lacks any sense of arrogance or pomposity, perhaps because Bezos always phrases it from the point of view of the consumer; of their overall experience, and how features such as Mayday enhance that.
"We'll be ready for Christmas morning, which is always a very big tech support day for us," Bezos concludes. And maybe that means the household geeks among us can take the day off too.
Check out our full hands-on with the Kindle Fire HDX for all the details on the tablets that have Jeff Bezos so excited!