Jeep RT-300 GPS for the brand-loyal and easily lost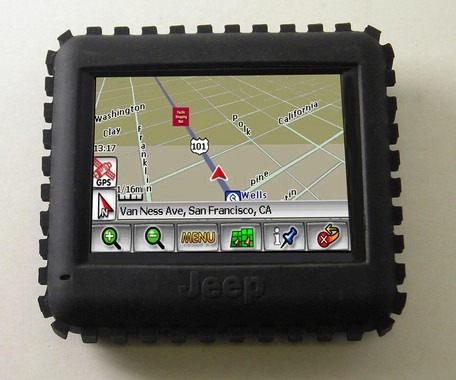 If you like to match your satnav to your vehicle, and you drive a Jeep, you'll be pleased to know that the company has announced a new GPS.  Clad in tire-effect rubber, the Jeep GPS Navigator RT-300 has a 3.5-inch touchscreen and can be set to announce street names to avoid you needing to take your eyes off of the road.
Jeep are claiming 3m accuracy, though presumably that could readily change in "urban canyons".  There's also a points-of-interest database with a reported five million entries, together with an MP3 player, video player and eBook app.
While the company is describing the RT-300 as "rugged", it's likely that this is merely whatever protection the rubberized casing affords rather than, say, military-spec ruggedization.  The MSRP of the Jeep RT-300 is $299.