JCB Toughphone Pro-Smart Review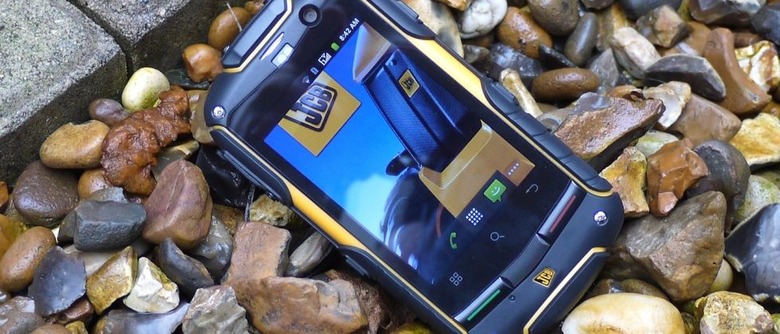 Smashed screens, cracked casings and broken buttons: you can take out endless insurance policies on your smartphone, or you can opt for a tougher handset altogether. JCB knows a little about sturdy hardware, and the Toughphone Pro-Smart TP909 certainly looks the part even when it's in the box. Oversized but still surprisingly affordable, it's the first of JCB's butch line-up to run a smartphone OS, in this case Android. Check out the full SlashGear review after the cut.
Hardware
The Toughphone is relatively cheap for an Android smartphone, and with a chunk of the budget going on ruggedization, it comes as little surprise that the core specifications are humble. An 800MHz, single-core processor, 3.2-inch HVGA capacitive touchscreen and mere 256MB of ROM make for a distinctly sub-average device. Outdoors, the display is reasonably clear though you need to shade it with a hand in direct sunlight.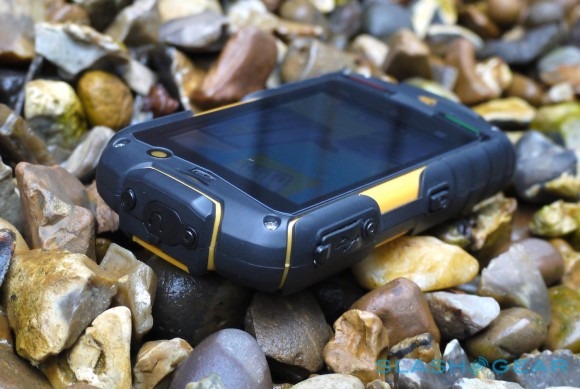 Still, the basics are onboard. There's triband 3G/HSDPA and quadband GSM/EDGE, together with Bluetooth 2.1+EDR and WiFi b/g. A 5-megapixel camera with LED flash on the back is joined by a front-facing VGA camera for video calls – ideal for showing your Skype friends how great you look in your protective headgear – and there's GPS too.
Design
Distinctive is probably the most generous way of describing the Toughphone's appearance, JCB variously channelling protective clothing, oversized footwear and a waspish color scheme to come up with the chunky handset. Despite the compact 3.2-inch screen, it's hardly a small phone at 125 x 62.2 x 20.5 mm, the thickness being a particular shock given the industry trend for slimmer and slimmer devices.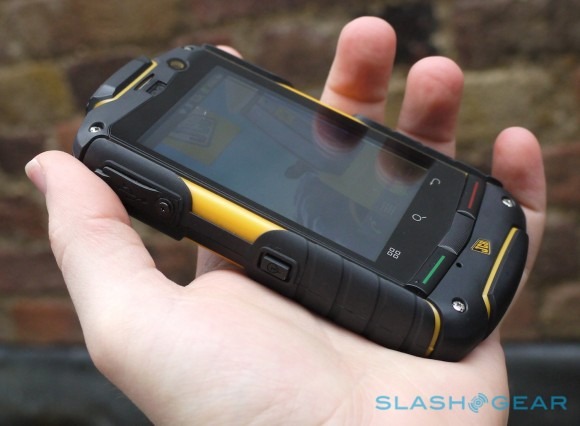 A mixture of black and yellow rubber sticks to JCB's earth-mover traditions, and it's certainly difficult to lose the Toughphone on a desk. Unfortunately the front panel button arrangement is a mixed bag: the call, home and call-end buttons are all nicely sized for use even when wearing gloves, but the touch-sensitive menu, search and back controls sandwiched in-between them and the display proved less responsive.
On the left edge there's a covered microUSB port and a button that lights up the LED flash on the back of the handset for use as a torch. The power button and a covered 3.5mm headphone socket are on the top edge, and volume buttons and a camera shortcut are on the right side. All of the edge keys are somewhat stiff to press, by virtue of their rubbery protection, but they're still large enough to hit if you're not bare-handed.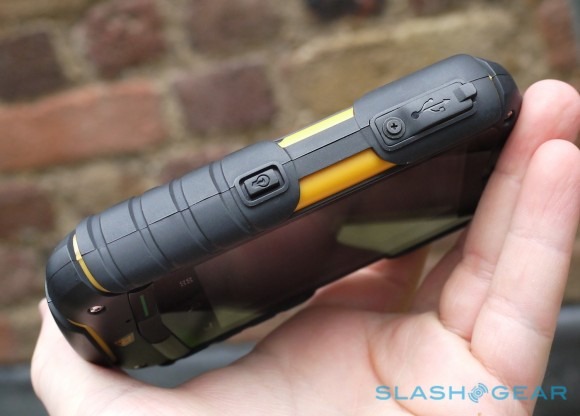 A lanyard loop is on the top back edge, with the battery door cover underneath secured by two screws. JCB includes a small, fiddly screwdriver attached to a bundled lanyard with a carabiner and a compass, but it's the sort of thing you only really want to have to open up and close once, really. The SIM, microSD card and 2,000 mAh battery are sealed in place by a rubber gasket around the battery door, helping to keep them safe from dust and water.
JCB quotes IP67 certification for water and dust resistance, and though the Toughphone isn't invulnerable, it's still far more resilient than your average handset. We were able to dunk it underwater and then shake it dry with no ill effects – JCB warns that "water resistance" isn't the same as "waterproof" and so you can't take the Toughphone swimming underwater – and a few careless drops left not even a scuff on the casing.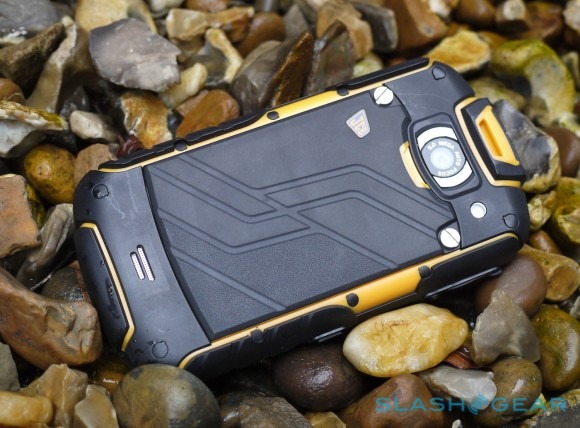 The weak spot is likely to be the display, a compromise between creating a rugged device and one which offers smartphone functionality. The raised bezel should do a decent job of protecting it, mind, and even after a trip in a pocket with some keys we noticed no scratches or marks.
Our one main complaint is the microUSB port. JCB's charge/sync connection is standard USB, but the port itself is recessed – to accommodate the chunky body – and so requires a specially tapered plug in order to fit. That's included in the box, obviously, but it does mean that your standard USB chargers won't work.
Software and Performance
JCB has opted for Android 2.3.5 Gingerbread rather than 4.0 Ice Cream Sandwich for the Toughphone, earning our ire out of the box. However, the company has also generally left the OS alone, its modifications amounting to little more than a custom splashscreen, JCB-themed wallpaper and a special JCB Toolbox app.
In that toolbox are six different mini-apps of varying usefulness. There's a spirit level, which uses the JCB's sensors to track how level a surface is (and can be set to a certain preferred degree, if you have a particular angle in mind), and a digital theodolite, as well as a sound meter for measuring ambient noise.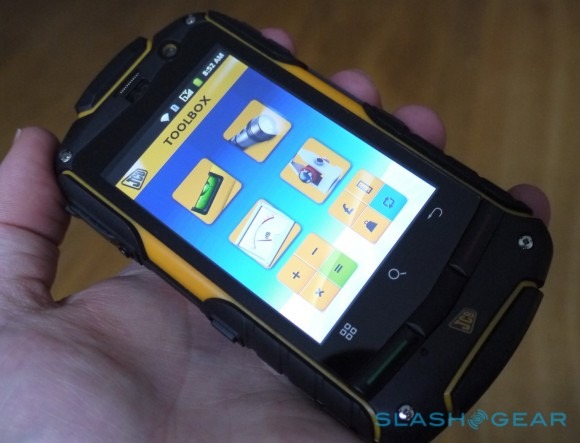 A calculator duplicates Android's own app, but there's a handy converter app that can juggle measurements or other sums such as telling you how many days there are in a certain month, complete with voice-to-text input. Least useful is the torch, which basically turns the display into a full-brightness white panel, but is less powerful than the LED flashlight on the back of the phone.
Finally, for those needing building supplies, there's a DIY store locator which shows nearby retailers on a map. With our UK unit, that seemed limited to the B&Q chain.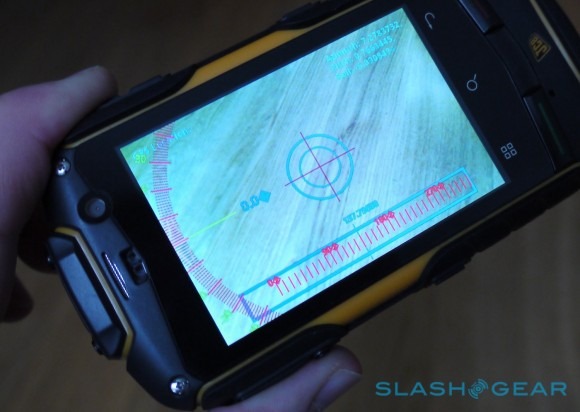 Given ruggedness is the primary purpose of the Toughphone, performance is unsurprisingly mediocre. In a world where dual-core phones are common, the JCB's 800MHz single-core stumbles on with noticeable lag when dealing with heavier apps. We also experienced some issues with missed screen taps which, when mixed in with the tardy processor, left us occasionally confused as to whether our press had been registered or if the phone was just still crunching away.
Camera
Don't expect much from the JCB's 5-megapixels. Image quality proved distinctly disappointing, with bland colors and murky contrast. More worryingly, some of our test images showed marked aberrations in the frame, with wobbly lines and distortions.
It's possible that's down to the extra lens protection slapped on top of the sensor, or could be a software glitch in our review device; still, the phone was running the latest build available, according to the Android update tool. The takeaway was that the JCB is fine for a quick snapshot to aid the memory, but nowhere near something you'd replace even a different camera-phone with, never mind a dedicated point-and-shoot.
Phone and Battery
JCB has blessed the Toughphone with a throaty earpiece, and even we crept up near to a worksite to see if the smartphone could compete with the average rumble of heavy machinery, we were able to hear our caller. With no active noise cancellation, however, it proved a little more difficult for them to hear us.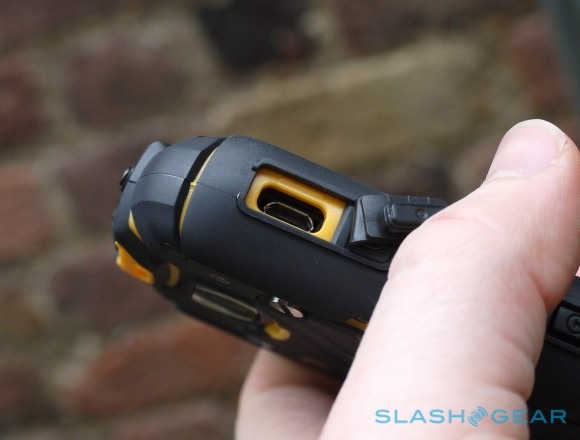 Up to 550 minutes of GSM talktime or up to 360 minutes of standby are quoted from the 2,000 mAh battery. It's a large pack given the size of the screen, and as a result the Toughphone can hold out longer than the typical smartphone. We managed a couple of days use – with push Gmail turned on – before needing to recharge.
Wrap-Up
Rugged devices have a tough time. Their audience is inevitably limited, and the balance of specifications, price and physical sturdiness is always weighted toward the latter. In the JCB's case, the camera seems to have been the primary victim of those priorities.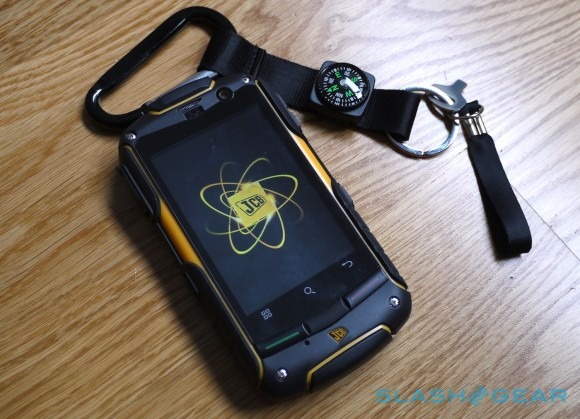 Nonetheless, while the audience may be limited, so is the number of rivals. Motorola's DEFY+ is the most likely alternative, offering a bigger screen, slightly faster processor and the same IP67 certification, albeit with less sturdy protective cladding. Ironically the DEFY+ is available in a special JCB edition, priced at £169 ($268) pre-tax, undercutting the Toughphone's £259 ($410) pre-tax tag.
For most, the Motorola will be a sufficient compromise between performance and resilience. If you're generally found on a construction site, however (or are clumsy beyond belief) and can accept the compromises, the JCB Toughphone should hold up to more than the average degree of mistreatment.
Thanks to Clove for the loan of the JCB Toughphone.