Jaybird SB1 Sportsband Bluetooth Headphones review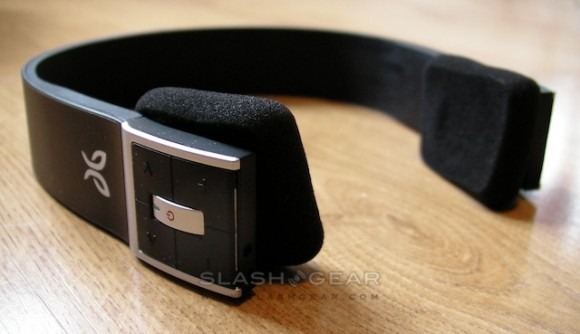 Announced last month, Jaybird's SB1 Sportsband Bluetooth Headphones may be intended for gym-goers – in fact they come with a lifetime guarantee against sweat – but with discrete styling and a reasonably budget $89 MRSP are likely to appeal to those nowhere near the treadmills. Are the Jaybird's cheap and cheerful, or does audio quality let them down? Check out the SlashGear review after the cut.
The packaging is nicely designed, but not exactly stuffed full. Inside the flocked-plastic insert sits the SB1 headset itself, along with a small printed "Quick Start" guide and a USB charging cable that ends with a non-standard plug. Jaybird rate the – non-removable – battery as good for up to 8hrs music or 11hrs talktime, and a full charge takes 2.5hrs. The battery indicator – which is on the outside, rather than discretely tucked on the inside edge as we prefer – lights red when charging and turns off when complete.
Controls are all clustered on the left-hand earpiece, with a central power switch/multifunction button – that, held down, kicks the SB1 into Bluetooth pairing mode – surrounded by track skip and volume keys. Underneath is the power port and a microphone for using the SB1 as a hands-free headset. The multifunction button operates play/pause during music playback, answers or rejects an incoming call, or triggers voice-dialing when held down for two seconds.
The regular 0000 Bluetooth PIN is used, and we were readily able to hook up the SB1 headphones to a number of different test devices. Each earpiece extends out by around an inch, and the flexible headband – which is rubber coated on the inner surface – is sufficiently tight in its grip that even when jogging we didn't feel the headphones would fall off. We wouldn't argue with a little extra padding on the earpieces, though, since it's your ears they're gripping to stay on your head.  Once you're familiar with the button layout, they fall easily to hand and don't require too firm or precise a jab in order to press.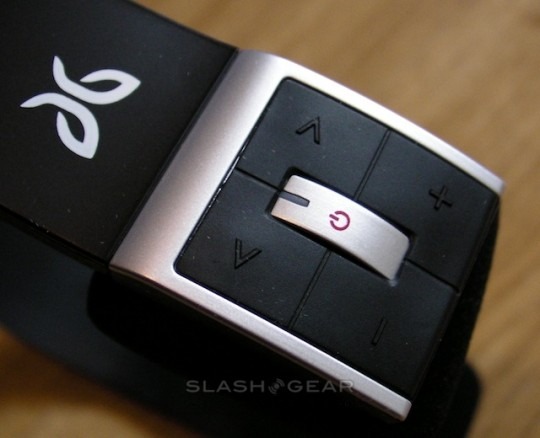 Audio quality is decent, given the constraints of Bluetooth technology with surprising amounts of bass and only relatively muddy mid-ranges and slightly underwhelming treble to contend with; we always prefer more high-fidelity options like Kleer, but there's no arguing with the flexibility of use that Bluetooth brings. Even Apple now support A2DP in various iPhone and iPod touch models, though since they don't comply with the AVRCP profile you won't be able to use the track skip and play/pause controls to remotely operate your Apple PMP. The same functionality worked with no problems on a number of cellphones, however, and the SB1 headset paused media playback on an incoming call.
Our one criticism would be on outgoing audio quality, which seems particularly susceptible to background noise. We wish Jaybird had implemented one of the DSP noise cancellation systems found on some of the newer mono Bluetooth headsets we've tested lately, seeing as their own "Clear Voice Capture" doesn't hold up to that competition, but given those earpieces generally cost more than the SB1's $89 price tag we can't complain too much.
Those other headsets don't get a lifetime sweat guarantee, either, something Jaybird are confident enough in the SB1's to offer; in fact, they even say you can run in the rain without problems. Bluetooth range is quoted at 10m, and as is typical for the technology we found it's pretty dependent on where your PMP is. Trying to make a connection with your body in the way can lead to occasionally patchy audio, but it's not so fickle as other headphones we've tried.
Jaybird's obvious rival is the Jabra HALO, which we reviewed back in September last year. At $129, the HALO headphones are almost 50-percent more expensive than the SB1's, and while the Jabra controls – which are all touch sensitive – are certainly discrete, the tactile buttons on the Jaybird are arguably easier to use. There's no wired option (for when the battery runs out) on the Jaybirds, but the SB1's talktime rating is higher: 11hrs compared to the HALO's 8hrs. Practically, we found the SB1's good for over 8hrs of solid stereo audio, particularly handy when paired with a laptop for watching video. Jaybird also make a reasonably big deal of the SB1's Skype and VoIP compatibility, though we wish you could fold them down to more easily slot into a laptop bag.
Still, $89 (or cheaper if you shop around online) is an impressively low price, and the Jaybird's styling doesn't instantly mark you out as a complete geek. Those looking for pristine audio quality already know to stay away from Bluetooth, but users looking for gym-friendly, sturdy and affordable headphones – with a fair bass kick to them – should definitely take a look at the Jaybird SB1 Sportsband Bluetooth Headphones.