Jabra HALO Bluetooth Stereo Headset Review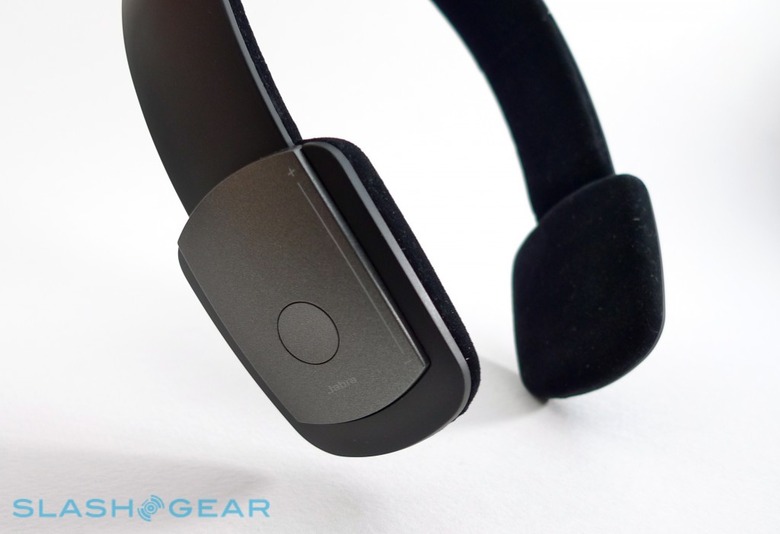 Bluetooth headsets might be associated with spreading legislation demanding hands-free use of cellphones, but the short-range wireless technology also has a more entertaining use: A2DP wireless stereo. SlashGear has been testing out Jabra's HALO headset, a set of folding stereo headphones that promise not only hands-off voice calls but wire-free music too. Check out our full review after the cut.
Opening up the headset and clicking the arms into place automatically powers it up; similarly, folding it back up will put it into standby. Jabra provide a simple carrying-pouch for transporting the HALO, together with a USB to microUSB cable for recharging from your laptop and – especially welcome – a mains adapter. The HALO supports the A2DP stereo profile, increasingly common on cellphones and PMPs, together with the AVRCP control profile. The latter is used to remotely control play/pause, volume and track-skipping on whichever device is connected, though its usability is sometimes dependent on whatever your source is; the iPhone 3GS, for instance, will allow for remote play/pause and volume control, but track-skipping must be done on the handset itself.
Bluetooth headsets walk a narrow line between overloading with buttons and attempting to make a few controls do far too many things. Jabra falls slightly on the latter side, with a single multifunction button that manages pairing, voice-dialling, call answering and play/pause, and a strip that handles both volume and track-skipping. Both are touch-sensitive, and we had mixed results with usability; the single button is large, slightly-dished and easy to find while wearing the HALO, as is strip for volume use. However skipping tracks – which is done by tapping the extremes of the strip – is trickier, as it requires your finger accurately locating the right position without seeing or feeling it. Something you get more used to with regular use, yes, but frustrating at first. Still, we're glad that Jabra have hidden the status LED on the inside of the band, rather than as a flickering beacon on the outside.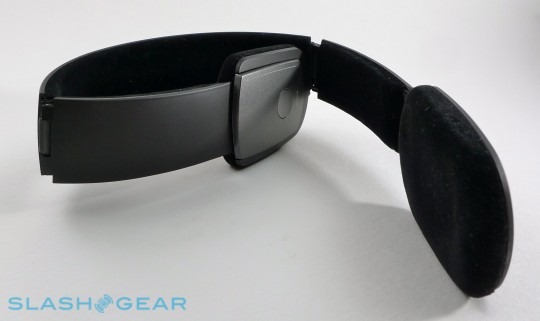 Pairing the HALO is as straightforward as most headsets make it these days, requiring holding down the multifunction button until pairing mode is triggered, searching on whatever device you're connecting, and tapping in the default 0000 PIN. Some more recent devices automagically guess the PIN based on Bluetooth headset tradition, making connectivity even easier. Since the HALO supports multipoint Bluetooth, you can have two devices connected at any one time, meaning the HALO can serve double duty with, say, a cellphone and a laptop. They'll also remember up to six more devices. There's also a bundled headphone cable which, when attached, turns the HALO into a regular wired stereo headset, useful if you want to use a device that lacks Bluetooth.
Unfortunately plugging in that cable shuts off the HALO's Bluetooth functionality, which means you can't then use the headset with one non-Bluetooth device and your cellphone, for instance. What it does allow is for comparison between wired and wireless audio quality, and we were reasonably pleased with the HALO. Like many Bluetooth headsets we've tried, treble and mid tones are emphasized while bass is less impressive; even over a wired connection, bass lacked the thumping hit we'd have liked to hear. Voice call performance was far more impressive, with the dual-microphone array and noise-reduction DSP adding up to natural and clean sounding audio for our test callers. There's no microphone boom, but even from up around the ears the dual-microphones did a good job of isolating our voice. It's not as impressive as some of the more complex mono headsets we've tried lately, such as the Plantronics Discovery 975, but it's certainly usable with moderate background noise.
Jabra HALO Unboxing video and hands-on walkthrough
[vms 9d284dc13885a37ce8d8]
Jabra quote up to 8hrs talktime or music playback, or up to 8 days standby. We've been finding the HALO manages a little less than that, topping out at around six or seven hours wireless use. Plugging in the wired connection obviously will increase that usage time, and it takes a couple of hours to recharge the battery; the LED indicator on the inside arm lights up red while charging and winks out when the HALO is full.
Minor usability quibbles aside, the Jabra HALO is a decent choice for anybody wanting both wireless media use and hands-free conversations. Dual connectivity is very handy, while the wired option provides a fall-back option for when you're occasionally using a non-Bluetooth device; we only hope that Jabra tweak their next-gen model to support both wired and wireless connections simultaneously. At $129 the HALO isn't the cheapest headset we've seen, but it's attractive, easily transported, comfortable and performs as expected; it gets a thumbs-up from SlashGear.