Japan's space mission Hayabusa2 just got real close to an asteroid whose shape becomes more interesting with each new view. On June 3rd, this spacecraft was 3100km away from this asteroid, and today Japan delivered a photo from just about 40km. The asteroid was code-named Ryugu by the Japan Aerospace Exploration Agency (JAXA), and today we're seeing this die-shaped rock up as close as any human's ever gotten before.
In the photo you'll see below, Ryugu was photographed with the Hayabusa2 camera ONC-W1 (Optical Navigation Camera – Wide angle). This is the June 24th photo, taken at right around 15:00 JST. Here we see the cube-like nature of this bit of space-rock. JAXA's on their way to up to 20km, ideally – that'll happen tonight!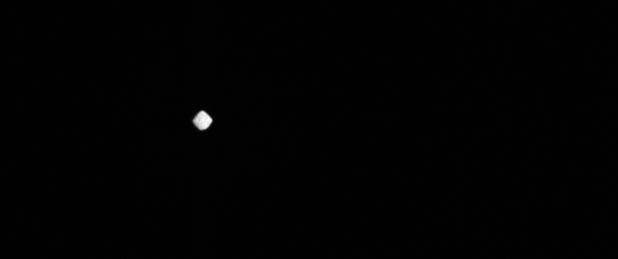 ABOVE: Figure 1: Asteroid Ryugu images by the ONC-W1. Photograph was taken on June 24, 2018 at around 15:00 JST and shows a section of the camera's wide field of view. Credit: JAXA, University of Tokyo, Kochi University, Rikkyo University, Nagoya University, Chiba Institute of Technology, Meiji University, Aizu University, AIST.
On June 3, 2018, the operation for guiding approach to the asteroid Ryugu started. (Distance to asteroid: 3100 km)
JAXA notes that they'll have a live feed conference as they reach the asteroid – which is amazing and awesome, I must say. "The National R & D Corporation Japan Aerospace Exploration Agency (JAXA) will hold a press conference as follows upon arrival of the asteroid Ryugu (Ryugu) at an altitude of 20 km of the asteroid explorer."
The photo at the head of this article goes by the name of Figure 2. Figure 2: Asteroid Ryugu photographed by the ONC-T on June 24, 2018 at around 00:01 JST. That's marked by the folks at JAXA, who also brought on the other photo in this article and the video feed you'll find below.

The image you see above shows the basic path of Ryugu as it rocks and rolls through our solar system. JAXA tracked this asteroid and said, hey, let's go check that thing out. It looks pretty neat!
"The shape of Ryugu is now revealed. From a distance, Ryugu initially appeared round, then gradually turned into a square before becoming a beautiful shape similar to fluorite [known as the 'firefly stone' in Japanese]. " said Hayabusa2 Project Manager, Yuichi Tsuda. "Now, craters are visible, rocks are visible and the geographical features are seen to vary from place to place. This form of Ryugu is scientifically surprising and also poses a few engineering challenges."
"The Project Team is fascinated by the appearance of Ryugu and morale is rising at the prospect of this challenge," said Yuichi Tsuda. "Together with all of you, we have become the first eyewitnesses to see asteroid Ryugu. I feel this amazing honor as we proceed with the mission operations."
This video feed ABOVE will go live on June 27th at 2AM Central Time, 3AM Eastern, AKA June 26th 11PM Pacific. The folks at JAXA will then explain the latest findings for mission Hayabusa2.