Jawbone MINI JAMBOX Multi Play update adds duo-DJ'ing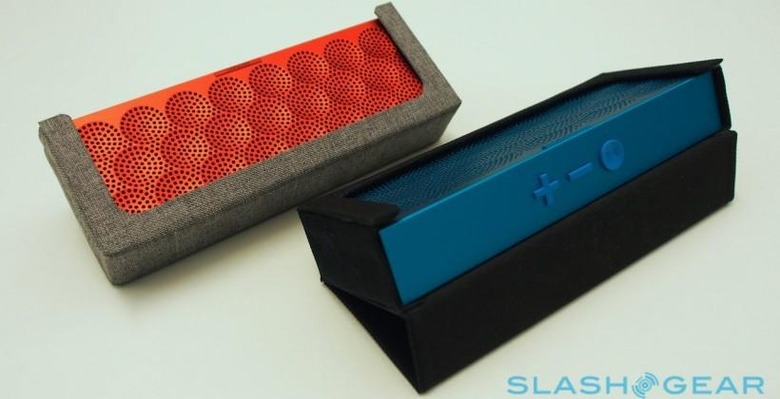 Jawbone's MINI JAMBOX is getting friendly, with new software allowing two of the portable, battery-powered speakers to easily pair up for room-filling sound, while giving two people the chance to collaborate as communal DJs. Released today, the new firmware enables Multipoint in the MINI JAMBOX's Bluetooth Smart Ready stack: put a couple of the speakers near each other, hold down all three of the buttons on both, and after a few seconds they link up and spread whatever's playing between both. I caught up with Jawbone to find out more.
The earlier success of the classic JAMBOX had left Jawbone pretty confident that the MINI version would find an eager audience, but the company says it was still surprised by how many people were engaging with "impromptu moments of audio" they can fit in a bag or purse.
That listening style – whether it be in a hotel room, on the beach, in a park, or at a friend's place – prompted today's Multi Play update.

Multipoint is, put simply, a way for Bluetooth 4.0 LE devices to talk to more than one other gadget simultaneously. In the case of the MINI JAMBOX, that means you can run into another person with the speaker and have them temporarily pair up, while still each maintaining their individual connection to a phone, tablet, laptop, or some other audio source.
It's not the first time we've seen this sort of casual pairing of two separate speakers, though Jawbone tells me it did some extra work to make sure the system works perfectly. That includes rewriting the entire Bluetooth stack the MINI JAMBOX uses, so as to cut out any phasing and make sure the streaming works right no matter whether it's coming from an iOS device, an Android device, or a mixture of platforms.
The result is a surprisingly simple way of handling what could get complex very quickly. Connecting and disconnecting involves holding down all three buttons; after a "radar" ping the two are linked, and whatever was playing is then spread across both speakers. By default they're in "Unison" mode – each playing the same thing – but pressing both volume buttons on one MINI JAMBOX sets that as the right speaker of a stereo pair (the other automatically understands it's the left).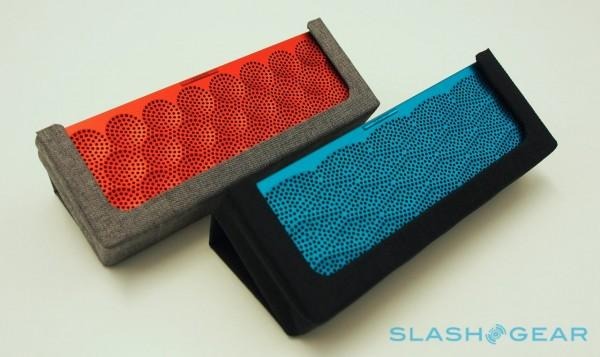 Power the other speaker off, or move it out of Bluetooth range from its partner, and your music switches back to your speaker. If you're streaming to both, and the device paired with the other MINI JAMBOX disconnects, both speakers will still keep playing.
Get an incoming call and the speaker will default to its original pairing to flip into handsfree mode. Hang up, and the Multipoint kicks back in automatically, resuming playback across both.
Best of all is how easy it is to pick music and control it. There's no need to use a specific app: each person can choose a track either locally saved on their device, or streaming through Spotify, iTunes Radio, Beats Music, or something else, and it simply starts playing. If the other person starts playing something subsequently, the MINI JAMBOX pair switches over to that, instead.
The volume and play/pause buttons on both speakers work, no matter which source is currently active.
Jawbone's smallest speaker packs a surprisingly punch on its own, as we found back when we reviewed it, but joined up as a pair and things get even more impressive. In Unison mode, there's a depth to the music that belies the small size of each unit. Better still is stereo mode, with the sort of channel separation, even at low volumes, that you might expect from a far more expensive stereo system.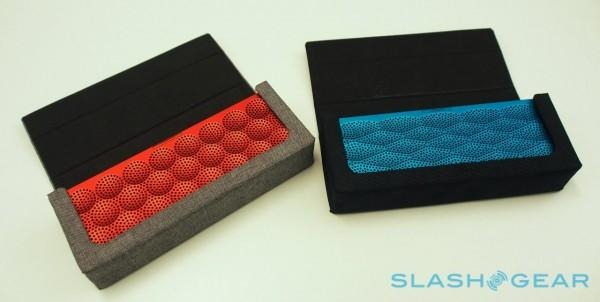 Switching between sources isn't quite simultaneous, with the speaker paired directly to the device starting playback a split-second before the old track ends on the other unit. However, they're in phase from the start, and we had no issues with synchronization.
What you can't do is set up a menage, with Jawbone specifically limiting things to just two speakers. The company has had 5-6 working simultaneously in its own tests, it tells me, but opted for just two so as to maintain stability.
Meanwhile, there's a very minor hit on battery life: you'll run the speakers down about 3-percent faster, I was told, in Multipoint mode. Since each phone is still only connected to one other peer, there's no change in how fast it runs down, however.
Jawbone envisages Multipoint being of particular interest to the especially social, as well as to families who might each have a MINI JAMBOX and then bring them together to listen to music together while they're in the kitchen or at the dining table. Alternatively, someone who wants a highly portable stereo setup might find the system appealing, taking it from home to work and then back again.
Unfortunately, while the technology might seem handy for the classic JAMBOX and the Big JAMBOX, they're out of luck. Neither supports the Bluetooth Smart Ready standard that the newer MINI JAMBOX does, so they can't be updated to add Mulitpoint. Jawbone tells me that all of its future JAMBOX and Bluetooth streaming products will, however, and that we should expect to see more uses of the technology soon.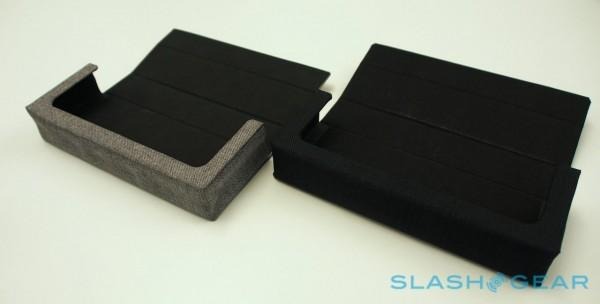 In fact, the first evidence of that could come later in 2014. Right now, the communal "DJ'ing" experience is very impromptu – Jawbone purposefully designed it to be platform and app agnostic, so as to minimize setup and usage headaches – but that means there's no record of your DJ set-list.
That could be an issue if you and some friends have just curated the perfect 80s playlist and want to relive every ABBA and Visage filled moment. Jawbone is working on a way of tracking what was played, aiming to make it just as source-agnostic as the Multipoint system works now. "This is the first step toward that," the company told me.
Of course, you'll need two MINI JAMBOX speakers in order to take advantage of the new Mulitpoint pairing. Jawbone is kicking off a summer price cut, dropping the speaker to $129.99 apiece. From June it'll be offering free engraving – for a message either on the top or bottom of the aluminum casing – as long as you order through its own site.
There's also a new carry case, giving the speaker some extra protection in your bag. Like an iPad flip cover, it uses magnets to keep the flap closed, and also to prop the MINI JAMBOX up so it points at your head when on a table. It's available now, in charcoal or grey, for $29.99.
To install the new Multi Play firmware to your MINI JAMBOX, you'll need to plug it into a PC or Mac and download the JAMBOX Updater app from the company's site.