Jawbone ERA Review (2014)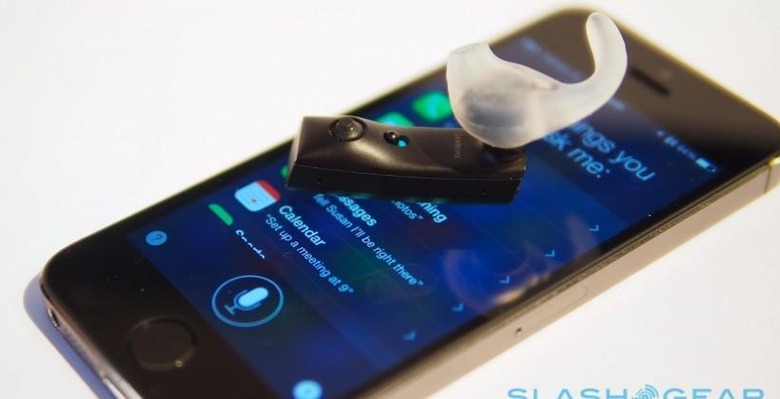 Time was, in Bluetooth headsets, you generally had to choose between style and performance. Some looked great but suffered poor battery life and mediocre audio quality; at the other extreme, you could have lengthy runtimes and excellent audio, but only if you didn't mind looking like you'd just walked out of a call center. Jawbone wants to change all that with the 2014 ERA, a slimmed-down, spec'd-up update of its flagship Bluetooth headset, but can it really bridge both successfully? Read on for the SlashGear review.
Hardware and Design
It's no exaggeration to say that the new ERA is small. The original model, released all the way back in January 2011, was compact and neatly designed, but three years development has allowed Jawbone to shrink things by 42-percent. It's not only smaller and lighter, the 2014 version sits flatter to the face as well; if you've got longer hair, it's entirely possible that the ERA could be hidden by it altogether.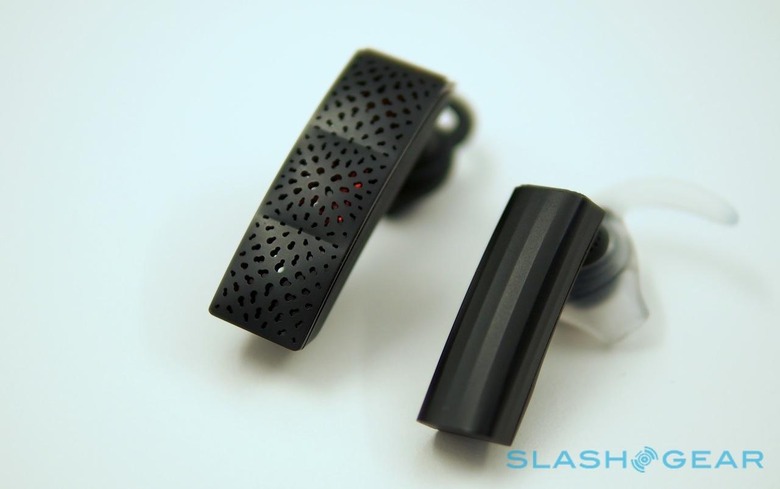 Aesthetically, Jawbone has dropped the cheese-grater fascia of the original and given the new ERA a more subtle casing, with gentle ridges running lengthways along the headset. How striking it is depends on what color you opt for – the black and bronze are subtle, whereas the metallic red and silver are more eye-catching – but no matter the hue it's incredibly light.
Jawbone supplies four earbuds – small, medium, and large for the right ear, and medium for the left – which simply tug over the speaker, with a flexible silicone tail that rests in the groove of your ear and keeps things snug. Even without an ear loop it clings tenaciously: we can shake our head frantically and still the ERA stays put. Despite that, it's comfortable too, and we wore the ERA all day without any discomfort.
Controls are minimal: a physical power switch on the underside, and a multifunction button on the back, just above the microUSB port for recharging. An LED ring surrounds the voice activity sensor, which makes gentle contact with your face to track when it's you talking and when it's the loudmouth behind you. Helping keep things compact is the switch to MEMS microphones, far smaller than the mics on the outgoing model: there are two, one at either end of the boom.
Those microphones work with Jawbone's latest version of NoiseAssassin, the audio DSP which cuts out background sound, and now up to v4.0. Developing it has been one of the key aspects of the three year long redesign of ERA, the company told us, taking into account the shorter boom and the ensuing increased distance between your mouth and the microphones. Nonetheless, the company is calling it the most refined version to-date for both sides of the call.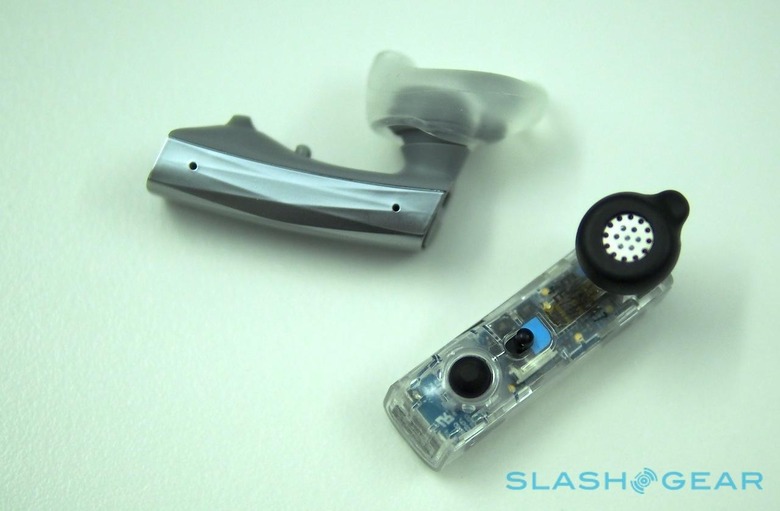 Jawbone claims up to four hours of talktime from the headset, though also offers a compact battery case that takes the total runtime to ten hours. The ERA plugs in and then folds flat, though the earbud still sticks out; there's a microUSB port to charge up both the case and the headset simultaneously, and a row of LED lights to show the case's charge. Jawbone quotes a full charge of both in an hour, which we found to be roughly the case.
Standby time unplugged from the case but paired to your phone is around three days. Turned off, meanwhile, and the ERA will stay charged for around a year: useful if you're the sort of person to leave your headset in a glove compartment.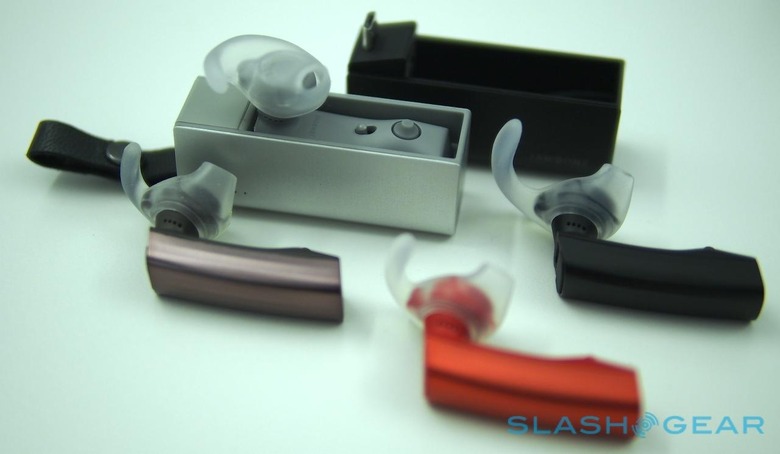 Performance and Usability
Comfort and size aside, if a headset sounds bad then you're not going to wear it. Thankfully, Jawbone hasn't stinted on audio performance from the 2014 ERA, and we've had some of the best results from a hands-free kit with the new headset.
Regular cellphone calls sound solid, with NoiseAssassin doing a good job of cutting out even loud background noise, like traffic. We were able to hold a conversation in the car, with the window open, and not have any trouble with our caller hearing us. If we had a complaint it's that we'd like the volume control to be a little easier to access: as it stands, you press and hold the multifunction button while in a call, and the volume cycles up and down. A touch-sensitive strip on the ERA's fascia would seem like an easier thing to control, however.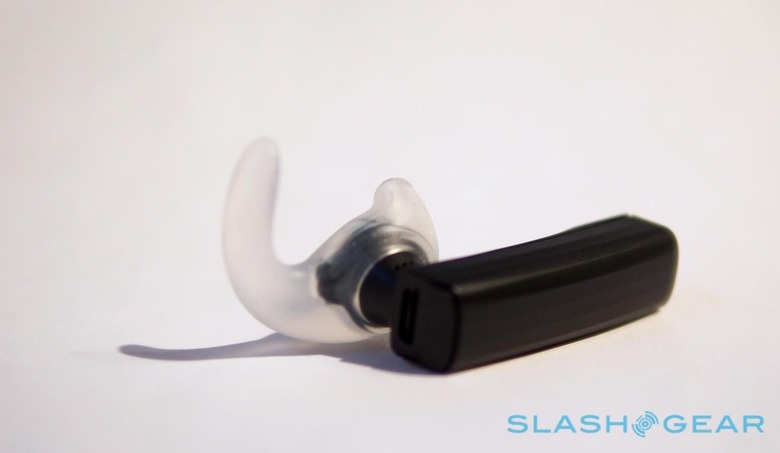 The big improvement comes when you try the headset with something supporting wideband audio, like FaceTime Audio or Skype. Then, the ERA's support for the upper and lower frequency ranges most phones cut off comes to the fore, with far more natural sounding speech. Wideband audio (aka HD Voice) call support is in short supply among US carriers right now, though as they begin to light up the technology there's already hardware support from devices like the iPhone 5s and Samsung's Galaxy S 4. Having heard what the ERA can do, it's something we now can't wait to happen.
Voice calls, though, are probably a minority use for today's smartphone, so Jawbone has had to think laterally to keep the ERA relevant. The answer has been voice commands, along with music. Onboard, there's a basic voice control system to cover the essentials. The ERA walks you through its settings with voice prompts: a single tap of the button, for instance, and the headset tells you how much battery time is left in hours.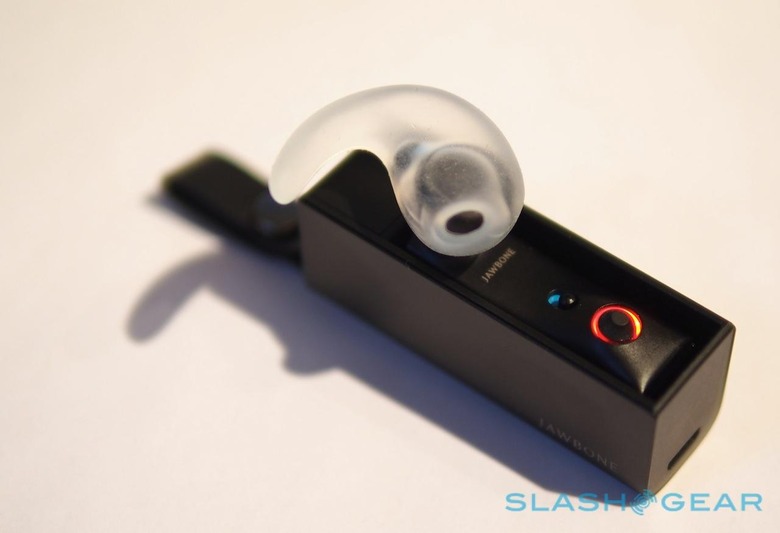 However, Jawbone is more excited about how ERA works with Apple's Siri and Android's Google Now. By default, when you press and hold the multifunction button, it triggers the digital personal assistant on each platform. On iOS, that means you can ask Siri to call or message someone, to find directions, or even to get a list of nearby restaurants. Jawbone has sensibly left the heavy-lifting to Apple, here, rather than trying to add its own layer of control over the top of Siri, and so you simply get the voice prompts piped into your ear.
On Android, meanwhile, it's a little like having Google Glass, only without the display (and a lot more discrete). Unfortunately, the usability very much depends on which Android device you have. Paired with a Nexus 5, for instance, and long-pressing the ERA's multifunction button brought up the voice dialer (even when it was set to launch voice search in the ERA Android app); the same happened on an HTC One. In contrast, on the Moto X, we were first given the option of the voice dialer or Touchless Control – Motorola's customized Google Now-based voice-control system – either of which we could set as default.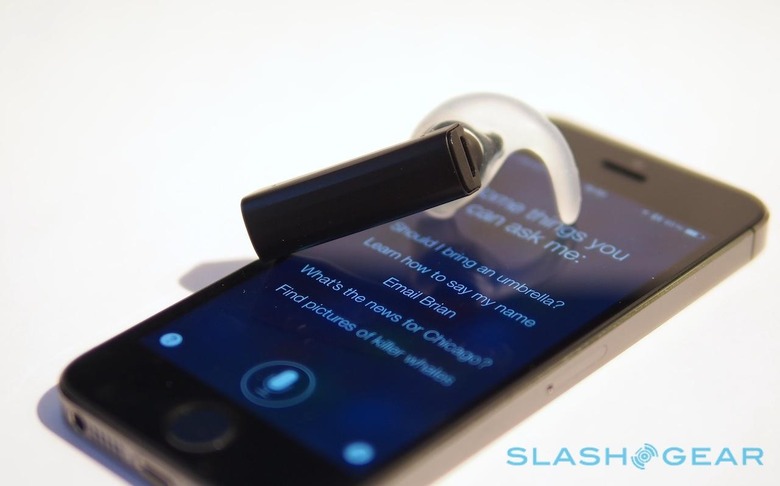 Exactly how much hands-free functionality you actually get depends on the query, too, with Android. The basics, like converting temperatures or simple web queries, are read out through ERA; more complex requests, like finding nearby businesses and such, bring the results up on-screen. We could dictate text messages and trigger calls by voice, as well as set alarms and send emails.
Even if you're not a fan of either Google Now or Siri, there's streaming music support with both left and right audio channels piped into the same earpiece. Tapping the ERA's button toggles play/pause in that case. All the shortcuts are listed in the Android and iOS apps, as well as the option to change which is used for the prompts, and even to locate the headset should you have lost it at the bottom of a bag or under the sofa. Tap the "Find" button and the ERA starts playing a sound with increasing volume until you turn it off.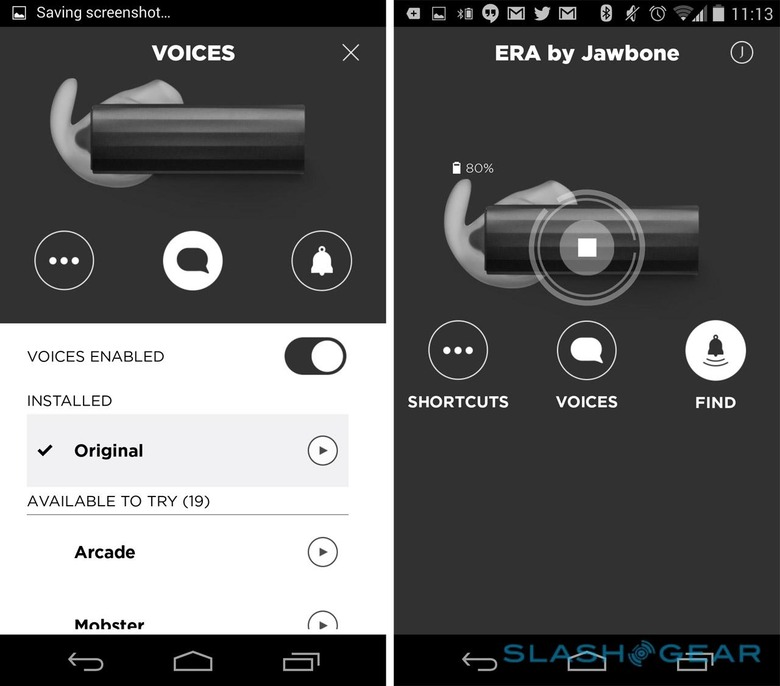 Price and Value
Jawbone is offering the 2014 ERA – complete with the charging case – for $129.99, available from today through the company's own site and from Verizon stores. As of January 24th, it'll be sold at Apple Stores, through AT&T, and Best Buy.
$99.99, meanwhile, gets you the headset alone, without the charging case. Four headset colors are offered, and two case colors: black and silver.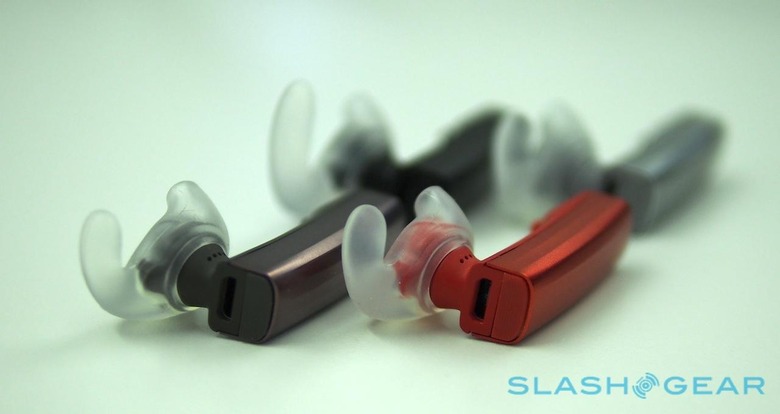 Jawbone also has an update for the Nerd USB dongle, which will make using a single ERA with both a phone and a computer more straightforward. For instance, if you're listening to Spotify on your laptop, and then a call comes in on your phone, the Nerd will automatically pause the music when you answer the call and then resume it when you hang up.
Wrap-Up
When you hear wearables, the expectation is usually some sort of Glass-style head mounted display. Yet there's still plenty to be done with audio-only: a clandestine whisper of information into your ear, funneling in directions, messages, and other answers, not to mention calls.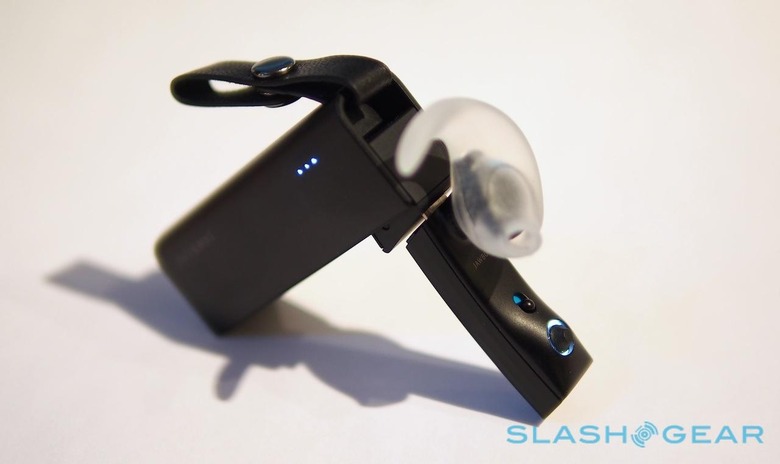 Jawbone's integration with Siri and Google Now is ambitious, and it has to be said more successful on iOS than Android. The latter is, as can so often be the case, very much device-dependent, though Android's inherent customizability does mean it should be a relatively straightforward matter to get Google Now playing more readily on more devices.
That's a good thing, because bringing those virtual assistants discretely to your ear is arguably of more use for most smartphone owners than crystal-clear voice calls. The 2014 ERA update obviously delivers those too, without a huge compromise on style, while the tiny form factor belies the battery life you can achieve. That flexibility and quality helps keep the ERA relevant both for personal and business users, each of which will find plenty to like about this stylishly designed headset.