Jaunt Cinematic VR: Virtual Reality leaves gaming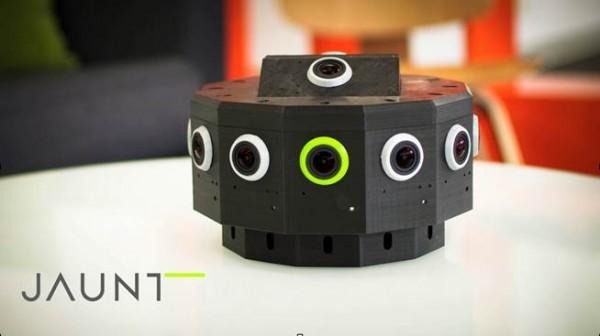 There's a lot more to the world of virtual reality than gaming has let on over the past year or so. Enamored with the gaming universe with projects like Oculus VR's "Oculus Rift" and Sony's new "Project Morpheus", the public seems to have forgotten the idea that virtual reality doesn't just have to be about gaming. The folks at Jaunt have convinced a number of investors that this is true, securing a cool $6.8 million funding round for their Cinematic VR experience.
The device will be called "Jaunt", and the experience will work with 360-degree "cinematic" virtual reality. With the camera contraption you see before you, the presenter of the experience will be able to capture their entire experience, not just one direction or in one dimension.
"Jaunt provides an end-to-end solution for producing cinema-quality experiences that are simply unforgettable.

Our cross-platform viewer allows for playback on many devices and provides an accurate, extremely realistic presentation of the visual and sonic content of the scene in all directions."

- Arthur van Hoff, CTO of Jaunt
Jaunt will create a 360-degree 3D video and audio experience. The Jaunt camera system simultaneously captures 3D stereoscopic video in all directions and sound with 3D sound-field microphones.

Developers will also be working with Jaunt's own proprietary computational photography algorithms to transform their recorded video data into highly-editable sets of data. That includes geometric calibration, color adjustment, and image processing right out of the box.
At the moment, Jaunt is using Oculus Rift for a lot of their demos. Even at their site – JauntVR dot com – you'll see Oculus Rift used time after time. To be clear, Jaunt is the capturing device and software, while Oculus VR is a completely different company, one that just so happens to be popular enough to stand in place for the viewing of the media captured by Jaunt.