January 2020 was the hottest on record - that's a huge problem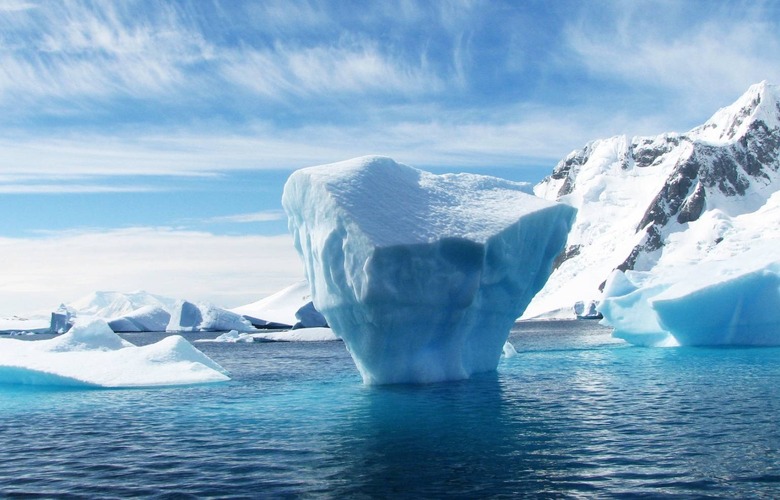 January 2020 was the hottest January on record, again highlighting the general trend in changing climates on Earth, and reigniting concerns about lower sea ice coverage. The research, published by scientists at NOAA's National Centers for Environmental Information, indicated that January 2020 was the 421st consecutive month with temperatures above the 20th century average.
Indeed, looking across the NOAA's 141 year records, January 2020's global land and ocean surface temperature was 2.05-degrees Fahrenheit above the 20th century average. The previous record temperature departure was in January 2016.
"The four warmest Januaries on record have occurred since 2016," the NOAA flags, "while the 10 warmest Januaries have occurred since 2002."
It wasn't just unusually warmer weather that was observed, either. In much of Alaska and parts of western Canada, for example, temperatures were at least 7.2-degrees Fahrenheit lower than average. Alaska also had its driest January since 2006 in terms of average rainfall, along with its 14th-driest on record.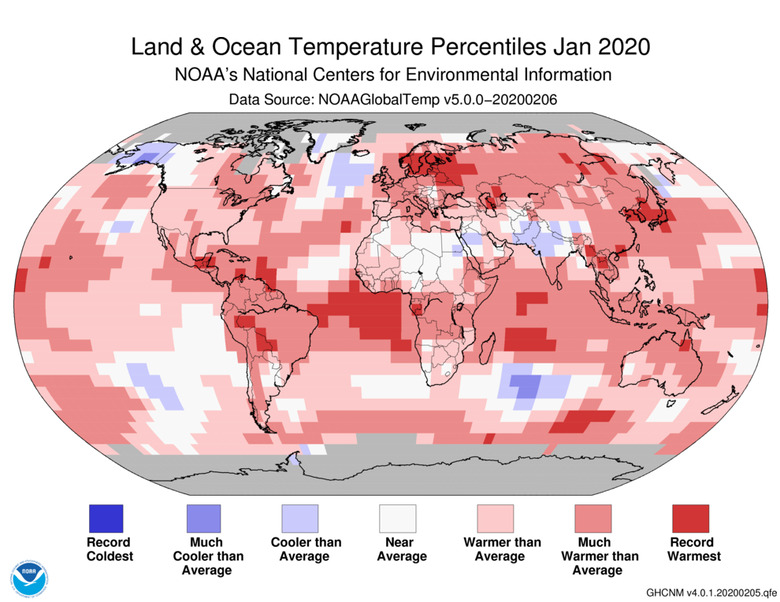 That's counter to the contiguous US, where most states saw above-average rainfall in January. Precipitation measured 2.7-inches on average – or 0.39-inches more than usual – putting the month within the wettest third of all Januarys on record. For the twelve month period from February 2019 to January 2020, NOAA says, 4.99-inches above average rainfall makes it the third-wettest such period ever recorded.
Sea ice and climate change remain a huge concern
One of the most obvious areas impacted by the changing climate has been Arctic sea ice. In January 2020, that was measured at 5.27 million square miles, which sounds like a lot. However, it was 297,000 square miles lower than the 1981-2020 average, the NOAA researchers point out.
That's a 5.3-percent difference. Antarctic sea ice also came in lower than the average, 9.8-percent lower than the 1981-2020 average. It came in at 1.74 million square miles.
Snow cover, too, proved to be lacking. In the Northern Hemisphere, coverage proved to be the 18th-smallest for a January, across the last 54 years of recordings.
Melting ice remains a significant concern. NASA recently flagged observations that the Beaufort Gyre, a major ocean current in the Arctic, has become both faster and more turbulent because of rapidly melting sea ice. It plays a huge role in polar equilibrium, keeping fresh water from glacial melt, river runoff, and general precipitation circulating around the western Arctic Ocean, north of Canada and Alaska, and helping avoid sea ice from melting.
Over time, it gradually releases fresh water into the Atlantic Ocean, where it can be slowly dispersed. Problem is, a much larger amount of fresh water has been building up through human-caused climate change, and scientists fear that it could be released in far greater quantities. "If the Beaufort Gyre were to release the excess fresh water into the Atlantic Ocean, it could potentially slow down its circulation," Tom Armitage, a polar scientist at NASA's JPL, explains. "And that would have hemisphere-wide implications for the climate, especially in Western Europe."
Not only could a flood of excess fresh water upset the equilibrium, the increase in turbulence is also having serious side-effects. Small, circular eddies of water are being created, mixing the colder fresh water with warmer salt water underneath, layers that would traditionally be kept relatively separate. That warmer result is leading to receding sea ice, among other problems.