James May Science Stories Qualcomm AR app hands-on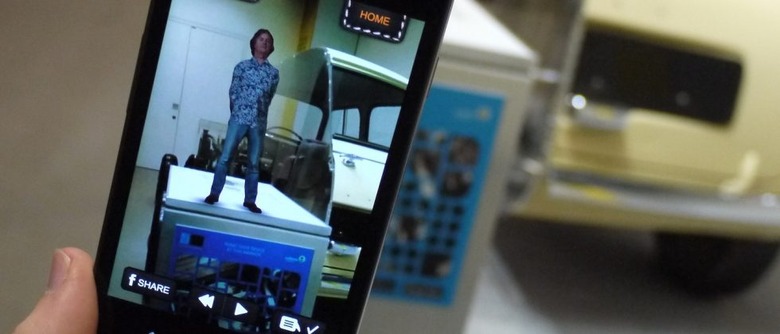 Augmented reality is headed into the museum today, though as a way of making science exhibits more engaging rather than relegating the tech to the history books. London's Science Museum has teamed with Top Gear presenter James May and app developer DigiCave to use Qualcomm's Vuforia augmented reality system to put a virtual guide on key exhibits. Nine of the Science Museum's most prized items now get a personal tour by May on your iPhone, iPad or Android device; check out our hands-on with James May Science Stories after the cut.
The app – a £1.99 download from the App Store or Play Market – recognizes special codes on the side of information plinths by nine of the exhibits in the Science Museum, and then pops a two-inch high James May animation on top to walk visitors through them. Move round the plinth and you can see the different sides of the animation, and there's a subtitles option along with the ability to share what you're looking at on Facebook.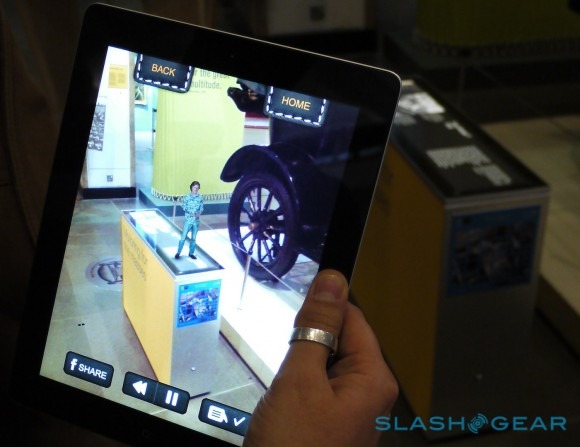 There's also an offline mode, which allows you to view May's monologues without actually being at the museum itself, and the option to print out replica glyphs if you want to see him floating above your kitchen table instead. Further additions to the app are in the pipeline; May has already recorded a further five, which should be released as a free update.
Science Stories hands-on:
[vms 5ea4c7bb6b2e6d570d46]
Vuforia uses special glyphs to identify each exhibit and its position in relation to the smartphone. Looking like a jumble of colored blocks, the Vuforia tech then uses its knowledge of the position of the glyph to overlay a James May animation.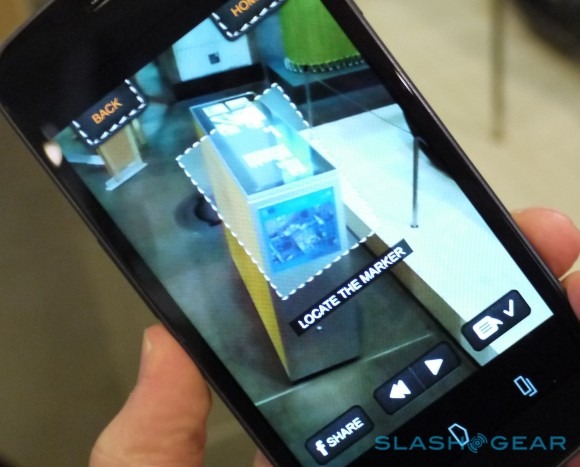 Qualcomm already has AR technology that can do pure image recognition, potentially cutting through the need for a glyph altogether by simply identifying whatever exhibit is in the crosshairs. However, that demands an up-to-date processor and high resolution camera, which DigiCave told us would basically rule out anything bar the iPhone 4S and the very latest Android phones. In the interest of broader compatibility, the less-intensive system has been selected instead.
Science Stories promo video:
[vms 5e1f1a40f40e6c749986]
The reliance on printed glyphs is one of the more frustrating aspects of the experience. The Science Museum is seemingly cautious about its implementation of the AR system, and so there's little signposting to flag up which exhibits have a May monologue attached; combined with the small size of the glyphs themselves, and the fact that so far there are only nine of them, it makes hunting them down tricky.
Once you do find one, your phone can't lose sight of the code else the virtual presenter disappears. Not so bad in a small group, but try to watch May with a cluster of people around you – especially if they're holding their phones up close to the plinth to initially ID the glyph – and it's too easy to lose a lock and then have to restart the segment.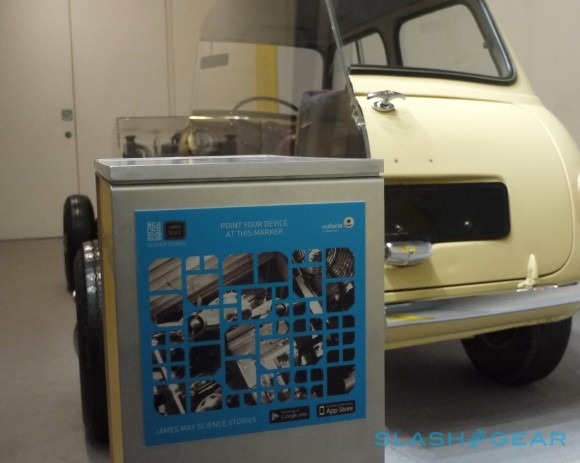 That could all be addressed with better positioning of the signs, mind, and when the system is working it's certainly eye-catching. May's monologues generally tread the fine line between entertaining and informative well, though it would be nice to have a subsequent link to more information for those particularly interested. The best experience was on an iPad, the big screen making for a more communal experience; considering you'd need a copy of the app for each member of the family's individual smartphone, it could work out cheaper, too.
DigiCave hopes to not only boost the number of interactive Science Museum exhibits in the near future but roll the system out to other museums. As for Qualcomm's AR tech, we'll probably have to wait a little longer before we can do away with glyphs altogether – or, indeed, before we have AR integrated into our glasses, Google Project Glass style – but it's good to finally see it breaking through into more mainstream audiences and with somewhat more useful applications than sparring robots.
You can download the James May Science Stories app from Google Play or the App Store.