Jake Dyson Motorlight Wall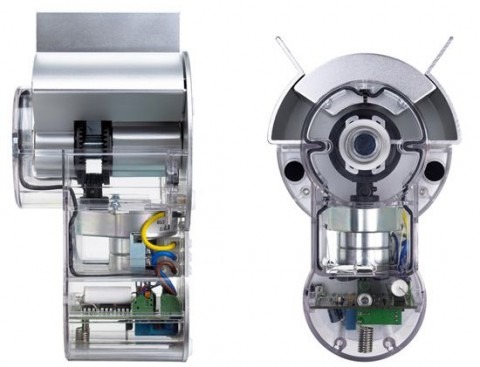 If your father is Sir James Dyson, inventor of – among other things – the Dyson vacuum cleaner, you can either find a completely unrelated industry to work in or bite the bullet and try to innovate your way out his shadow.  Jake Dyson chose the latter route, and came up with this: the Motorlight Wall.  A remote-controlled lamp with adjustable iris, the Motorlight Wall can uniquely offer various spreads of light between 10 and 120 degrees. 
Intended to be used either individually or, more dramatically, in sets, up to thirty Motorlight Wall units can be controlled – separately or together – by a single remote.  As well as angle, brightness can be adjusted; the housing is available in five finishes: red, blue, black and white, plus a very Dyson-esque clear.
The Jake Dyson Motorlight Wall was meant to go on sale in November last year, priced at £249 ($394) with the remote at £28 ($44), but there's no sign of a purchase option.  It more recently stared in an art installation called "Focal Shift" at New York Design Week 09, in collaboration with artist Jason Bruges.  Photos of that in the gallery below.
[via Designboom]