Jaguar Land Rover researching electric Drive Module tech for future EVs, hybrids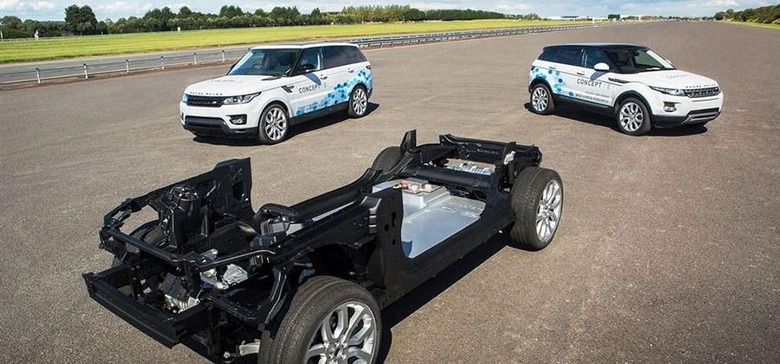 Jaguar Land Rover has announced that it is researching new low and zero emission powertrain technologies for cars and SUVs of the future. As part of the research, the automaker has created a trio of concept_e demonstrators to show off the research they are working on including high performance electric drive modules (eDM) that are being developed in house by Jaguar Land Rover.
The most notable aspect of these new eDM devices is that they are capable of producing twice the power and torque of any electric motor-generator in production today. eDM tech can be inserted between the engine and transmission to create MHEV or PHEVs or used alone to create a pure EV.
These products are the result of research that began in 2013 and partly funded by Innovate UK and involved 12 UK technology partners. Concept_e MHEV is a mild hybrid based on the Range Rover Evoque with a 90 PS diesel engine and a 48V electrical system featuring a 15 kW crank integrated motor.
Concept_e PHEV has a similar architecture to the MHEV, but uses a prototype 300 PS gas engine, 8 speed transmission, and is based on a Range Rover Sport. It has a 150 kW electric motor and 320V lithium battery pack. The final concept is the Concept_e BEV built on the Jaguar Land Rover aluminum vehicle architecture with a 70 kWh traction battery and electric axle drive units. The front drive unit is an 85 kW electric motor and the rear is a 145kW electric motor paired with a twin speed transmission.
SOURCE: Jaguar