Jaguar Land Rover projection system indicates what direction a self-driving car is traveling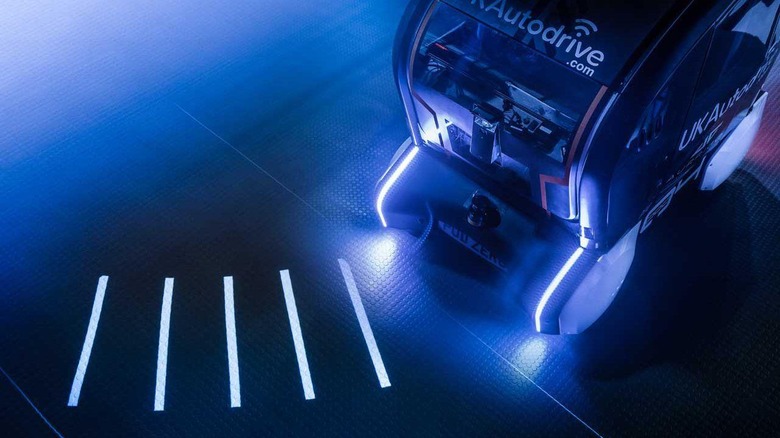 Multiple challenges face autonomous vehicles as they move into the mainstream in coming years; among those challenges is how to let other drivers and pedestrians know what the autonomous auto is doing. One way that Jaguar has come up with to let people know that an autonomous auto sees them is to put googly eyes on the vehicles that look at the person the car senses. Jaguar Land Rover has unveiled a new system that is designed to show other drivers and pedestrians where the car is going.
The system that the automaker has come up with uses a projector to throw lines indicating the direction the vehicle is traveling onto the road. The projection system is able to show both directionality and stopping intent. The system is part of the Jaguar Land Rover research into helping people trust autonomous technology.
The tech is in testing on an autonomous pod vehicle developed by Aurrigo and in its current configuration is a series of bars with adjustable spacing. As the pod accelerates, the spacing between the lines expands. When preparing to turn, the bars fan left or right. As the pod slows, the lines get closer together and are completely compressed at a stop.
Jaguar says that the trials it is conducting are about learning how much information a self-driving vehicle needs to share with a pedestrian to gain trust. The goal is to give pedestrians the trust that they can cross the road safely when an autonomous vehicle is present.
Jaguar Land Rover cites safety as a top priority with its investment in self-driving vehicles. While fully autonomous cars are a while away, Jag is using the tech it is developing in its current rides with features like adaptive cruise control, blind spot assist, and intelligent speed limiter. There is no indication of when this projection tech might make it into a production car.