Jaguar C-X17 Revealed: "Pretty Feasible" For Market Release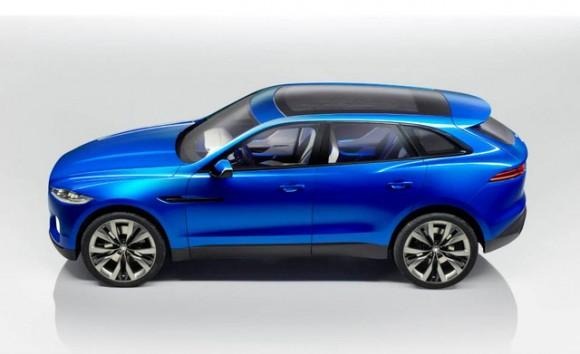 The concept vehicle known as Jaguar C-X17 has been revealed in full today in Frankfurt – not as a production car, mind you, but as a concept that may very well see production in the near future. This is the first time Jaguar has launched into the CUV/SUV territory, and they've done so keeping the Jaguar design language from start to finish. This is thanks in a large way to Jaguar Design Director Ian Callum.
Jaguar Design Director Ian Callum spoke up today on the reveal – immediately following it, in fact – suggesting that the aluminum architecture under this vehicle is one of the keys the company hopes to drive home as vital to the future of both concept vehicles and production vehicles with the brand. He noted this aluminum architecture Jaguar was now using was (and is) so flexible that they're able to create "the proportions I want" straight through to a vehicle like the on you're seeing today.
UPDATE: Concept presentation video ready for action, added below.
And don't let the smooth interior, lit-up bits and pieces, slide-rising control knob for what must be a rather futuristic infotainment center, and next-level presentation fool you: this car may well be made real by the brand before too long. This is a sports crossover not just made for looks.
When asked by Jaguar's own resident live event host whether or not this vehicle will become a reality, Callum spoke quite candidly:
"It's pretty feasible really.

We brought this car to see if we had the permission to go in this direction, [though] I can't say for definite." – Jaguar Design Director Ian Callum
This vehicle is ringing in at a cool 4718mm (186 inches) in length with a 2905mm wheelbase, 1959mm width, and a height at 1649mm. Ground clearance on this vehicle works at 213mm while the rest of the details in this vehicle are very much open to change. While Jaguar has suggested that the first product with the advance lightweight aluminum architecture offered in this vehicle will be a mid-sized premium C/D segment sedan launching in 2015 (and North America in 2016), this concept vehicle has not yet been slated for release as such.
We'll be continuing to detail this vehicle here on SlashGear throughout the morning – stick around our Jaguar tag portal for more information all day long!