Jabra Solemate Max wireless speaker unveiled for Q4 launch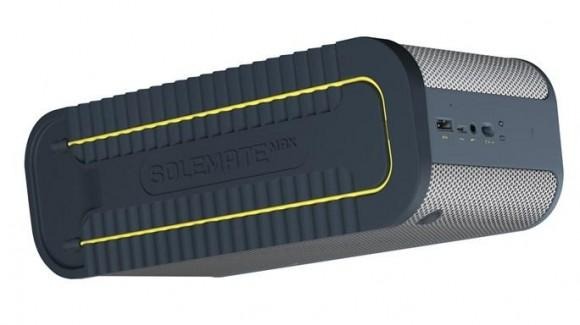 Jabra is back with another extension to its wireless stereo line of products: the Jabra Solemate Max. With the latest offering comes a decidedly Jabra-centric design customers will recognize following closely on the heels of the Solemate Mini unveiled in early September, as well as the original Solemate we got our hands on earlier this year.
As with some past offerings, the Jabra Solemate Max brings with it the rugged speaker sole that helps protect against drops and bumps, as well as Dolby technology in the form of Sound Space Expander. The speaker is portable, and can be carried to various locations, connecting with the streaming device wirelessly for on-the-go play.
The speaker has two tweeters and two woofers, as well as an integrated speakerphone capability for taking and making calls. The wireless aspect of the Max includes both Bluetooth and NFC, making pairing extra simple for those with the tap-to-pair support on their mobile device. As with other Solemate speakers, there's also the integrated cable for those who need a wired connection.
Digging into the specifications, the Max offers Digital Sound Processing, an Omni Directional microphone with noise filtering, and AVRCP. As far as battery goes, the unit is said to offer up to 14 hours of talk time, 400 hours at standby, and 14 hours of music streaming. There's an indicator showing battery life, and a charge alert for when it gets low.
The speaker launches in the fourth quarter of this year, price not yet specified.