Jabra Skype range outed: EXTREME, EASYGO, CHILL & SPEAK410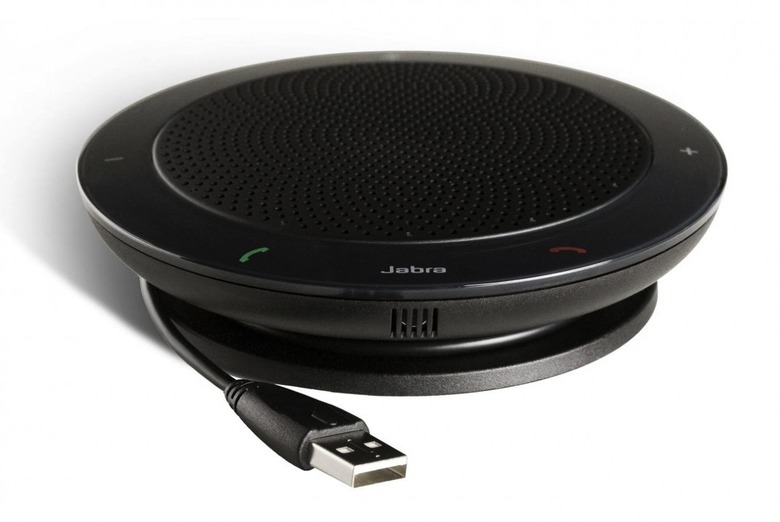 Jabra has unveiled a range of Skype-certified speakerphones, the Jabra EXTREME, Jabra EASYGO, Jabra CHILL and Jabra SPEAK410. The EXTREME is the most flexible, pairing a Bluetooth headset and USB dongle, though the EASYGO still features multipoint connections for remaining paired with both your PC and phone.
The CHILL, meanwhile, is a corded headset, which can be used with both cellphones and VoIP calls; it also has in-line music controls. Finally, the Jabra SPEAK410 is a USB -powered speakerphone, as well as including music playback.
The Jabra EXTREME, Jabra EASYGO and Jabra CHILL are available now, priced at $99.99, $59.99 and $29.99 respectively. The Jabra SPEAK410 will land in Q2 2011, price tba.
Press Release:
JABRA EXPANDS PORTFOLIO OF SKYPE-CERTIFIED OFFERINGS WITH NEW PRODUCTS OPTIMIZED FOR VoIP COMMUNICATION

New Plug-and-Play Devices Offer Great Sound & Noise Cancellation;

Allow for Truly Hands-Free VoIP Communication

With Colleagues, Family and Friends

LAS VEGAS, NV – January 6, 2010 –Jabra, a world leader in developing innovative hands-free solutions, today announced the expansion of its portfolio of Skype-certified products designed to offer a handsfree VoIP solution for all of life's situations – from the dorm room to the board room. Three new products join the Jabra EXTREME – FOR PC, which launched in October 2010, to offer a complete suite of products that enable multi-tasking through a simple plug & play installation process. The introduction of these new products gives Jabra a wide portfolio of VoIP-specific products on the market, providing consumers with access to a Skype-certified headset or speakerphone for their mobile lifestyle. The new portfolio of products will be shown for the first time at the Consumer Electronics Show (CES) in Las Vegas this week.

The rapid growth of the VoIP calling industry – Skype, alone, has more than 560 million registered users worldwide – has fueled demand for better headset and speakerphone solutions with top-of-the-line sound quality and features. Jabra is stepping up to the challenge, putting a heavy emphasis on its line of VoIP-optimized products as communication trends indicate that consumers are turning to laptops, mobile devices, tablets and PCs to make more and more of their calls.

The Jabra EXTREME – FOR PC and Jabra EASYGO – FOR PC come with a pre-paired USB adapter that automatically connect to a PC and Skype software for the simplest plug and play experience to date. These multiuse products can take both Internet and mobile phone calls seamlessly and clearly. Two corded offerings, the Jabra CHILL – FOR PC and Jabra SPEAK 410 – FOR PC, ensure that Jabra has a VoIP-solution for everyone. All of Jabra's Skype-certified products provide crystal-clear sound quality so that even long-distance callers sound as though they're in the same room.

The new portfolio of products includes:

Jabra EXTREME – FOR PC

• The first product released from this VoIP-optimized suite makes poor quality calls a distant memory and can simultaneously be paired to both your PC and your mobile phone. Designed for the true road-warrior who refuses to sacrifice on sound quality, the headset has been described by a Skype test engineer as "the best sounding/performing Bluetooth headset my team has put through our test laboratories." (Best Buy, MSRP: $99.99)

Jabra EASYGO – FOR PC

• Offers great value for the money and provides the perfect hands-free solution for a student studying abroad that plans on using Skype to keep in touch with family and friends or a recent grad who is entering the workforce in a new city or country. The EASYGO – FOR PC is a lightweight, stylish headset that can handle all of the needs of an entry-level Bluetooth user. The EASYGO – FOR PC can simultaneously be paired to both your PC and your mobile phone. (MSRP: $59.99)

Jabra CHILL – FOR PC

• This corded option is perfect for those who are not quite ready to go completely wireless. Compatible with both mobile phones and VoIP calls, the CHILL – FOR PC comes equipped with a high-quality microphone and music control function, leaving all other corded headphones in the dust. (MSRP: $29.99)

Jabra SPEAK410 – FOR PC

• This USB-powered speakerphone brings the convenience of instant speakerphone calls anywhere using Skype. The SPEAK410 – FOR PC is a plug & play voice-conferencing solution that requires no additional set-up and comes with a mobile carrying case, allowing users to set up a mobile conference room in a matter of seconds. The product also features music playback capabilities so users can enjoy their favorite tunes while waiting for a VoIP conference call to begin. (Launching in Q2 2011)

For more information on Jabra's suite of Skype-certified VoIP products visit BuyJabra.com/US, http://shop.skype.com/headsets/ or follow us on Twitter at http://twitter.com/jabra_us.