Jabra FREEWAY Hands-On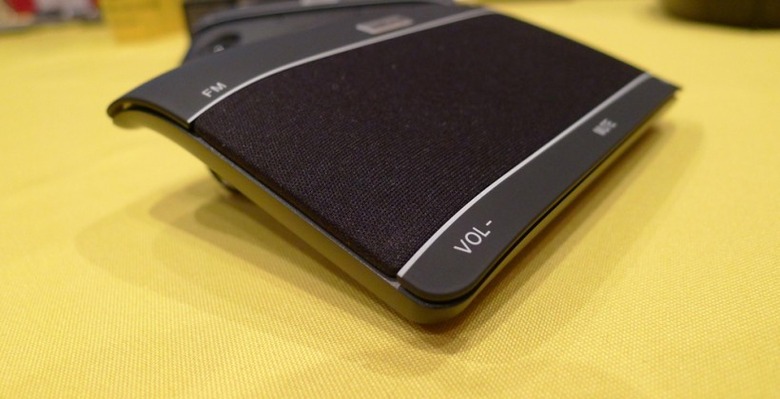 At CTIA 2011 we've been given the opportunity to take a close look at Jabra's newest effort, a dip into the world of speakerphone technology with a device that's made specifically to attach to your car's visor over your head whilst you drive. This is a device that, at a glance, looks very similar to a device yours truly recently reviewed over on Android Community, but we'll get to that in a little bit.* This device features three speakers, HD Voice Ready for fabulous quality audio both from and two the device as a conduit to and from your phone.
Two models were on hand, one with the cover on, one where we were able to take a peek under the hood. As you can see in the images above and below, there are indeed three speakers featured on this device, each of them pumping sweet sounds directly to your ears for superior quality sound as it connects to your device, be it an iPad 2, mp3 player, or video game console. The look we've been given is the first that anyone in the whole wide world of media has seen it, and we got a really nice fellow to give us a full run-through of the details.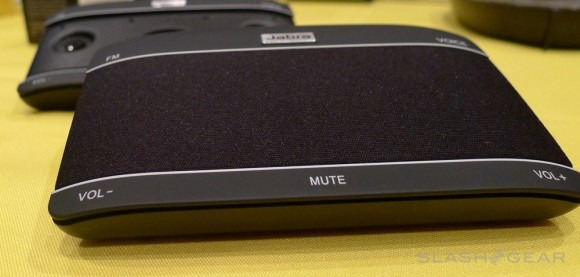 What this device reminds me of is the Motorola Roadster, a device which you can peek at a review of [right over here]. The reason I mention that particular unit is that it's got many of the same features that this one does. The difference is that this one's made in a slightly more third-party manner, this meaning that a whole market of speakers, receivers, and transmitters has potentially been cracked open. We're excited because we really did enjoy the ability to wirelessly connect to the car's audio whenever entering the car, and this device looks just lovely.
[vms 446d1c92ede2ed878018]
Have a peek at the video above, and the pics above and below, and be sure to take a look back at the [announcement post] for more technical specs.