Jabra FREEWAY intelligent triple speakerphone hits US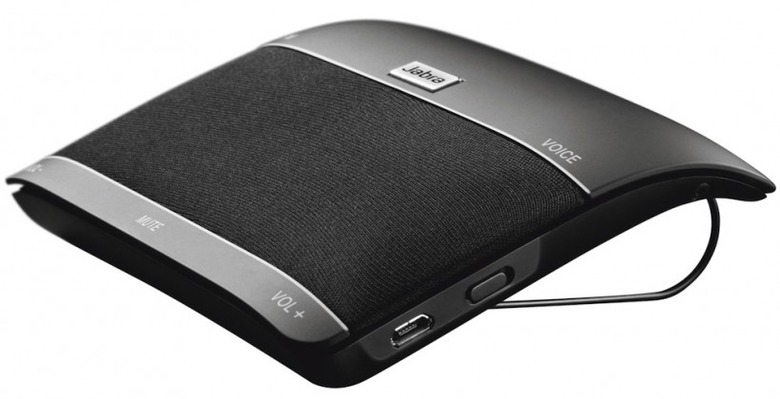 Jabra has given its latest Bluetooth accessory a US launch, this time a speakerphone rather than a headset. The Jabra FREEWAY is apparently the first to include three speakers and be HD Voice compliant; that, the company reckons, makes it ideal not only for hands-free calls in the car, but for use with an iPod, smartphone or other PMP thanks to Bluetooth A2DP support.
As for HD Voice, as long as you have a compatible phone you should see higher quality audio during calls. The FREEWAY has voice recognition – to control making, answering, ending, redialing or rejecting calls – as well as automatic power control that can bring the speakerphone out of standby mode when you get into the car, and then shut it down again at the end of your journey.
There's also spoken caller ID, and a year's bundled subscription to Voice Assist, which allows you to send and respond to emails, SMS, Facebook and Twitter messages. The Jabra FREEWAY will hit US shelves in May, priced at $129.
Press Release:
JABRA LAUNCHES INDUSTRY-FIRST SPEAKERPHONE WITH THREE SPEAKERS AND HD VOICE READY TECHNOLOGY

Take Calls & Listen to Music Anywhere You Are With the Jabra FREEWAY;

Partnership with Voice Assist Creates the Ultimate Hands-Free Solution

Orlando, FL – March 23, 2011– Jabra today announced the Jabra FREEWAY, a revolutionary new speakerphone that features industry-first innovation and expands the Company's wide offerings in the category. Taking audio quality to a whole new level, the Jabra FREEWAY features a ground-breaking new three speaker system – a first-ever in the category – along with HD Voice Ready, ensuring superior audio quality on both ends of a phone call. The Jabra FREEWAY provides unique versatility as both a device to be used inside or outside the car and for both calls as well as listening to music with any device – an iPad, iPod Touch, iPhone, mp3 players or video game console. The Jabra FREEWAY will be showcased at CTIA Wireless show this week in Orlando, Florida, prior to the North American launch in May.

The Jabra FREEWAY features an intuitive design and a complete hands-free experience for users, allowing them to focus on the task at hand. Once the Jabra FREEWAY is clipped to the car's visor, it automatically turns on when the car door is opened and then helps the driver pair the device to a mobile phone. Drivers can then sit back with their hands on the wheel and focus on the road ahead and use their voice to solicit all kinds of commands – making, answering, ending, redialing or rejecting calls – without touching their phone. And once a conversation is finished or a destination reached, the FREEWAY automatically shuts off so there is no need to worry about saving battery life for the next use.

The Jabra FREEWAY also comes with a free one year subscription (valued at $59) to Voice Assist, a voice controlled app that can be used with any type of mobile phone or IP-connected device. With Voice Assist, calls and commands can be performed all by voice controlled communication, allowing users to call, send or respond to emails and text messages, or post to social networking sites such as Facebook and Twitter, all by voice.

Those features combined with Voice Guidance, which communicates pairing instructions, battery level and connection status, and Caller ID, an easy and safe way to know who is calling by announcing the name of the caller or the phone number if the caller is not in your phonebook, provide a truly hands-free experience.

Other industry-leading features include Virtual Surround Sound, delivering superior audio quality and rich, crisp, full stereo sound anywhere your day takes you – at home, in the car or at a friend's house – and A2DP for playing music and podcasts or listening to GPS directions, long talk and stand-by times, connection to more 2 Bluetooth devices at same time, and auto on/off.

The Jabra FREEWAY was recently named a winner of the 2011 red dot awards for product design, and is currently a finalist in the CTIA 2011 Emerging Technology (E-Tech) Awards Program.

For more information on Jabra's line of mobile products, visit http://www.buyjabra.com/US, like us on Facebook at http://www.facebook.com/Jabra.US or follow us on Twitter at http://twitter.com/jabra_us. The Jabra FREEWAY will be available in May for a suggested retail price of $129. The FREEWAY is already available in Europe and Asia-Pacific retail stores