iXtreamer Review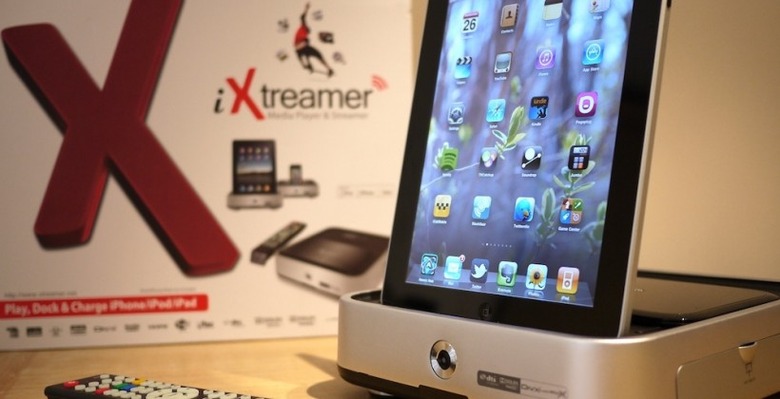 It's a tough world for iPhone docks; no longer is it enough to simply offer party-friendly playback, the near-saturated market demands slick styling and superlative features if you want to get attention. Xtreamer has certainly pushed the boat out with the iXtreamer, with space not only for your iPhone or iPod but an iPad too, along with an internal hard-drive bay, network streaming and more. Is the iXtreamer the last word in iDocks? Check out the full SlashGear review after the cut.
Hardware
Considering there are no internal speakers, the iXtreamer is a pretty imposing slab. Measuring 242.1 x 251.3 x 65.7 mm, it's finished in silver and black plastic with chromed highlights. Physical controls are limited to a power/standby button on the front. On top is the docking connector, with a suitably broad cut-out so that an iPad can slot in; a piece of plastic roughly the size of a PCMCIA card pulls out the side of the iXtreamer and slots in behind the iPad, giving it a rubber-padded place to lean against. Alternatively, there's an included dock adapter for your iPhone. A sliding panel can cover up the dock if you're not using it.
On the right side is a door hiding the 3.5-inch SATA drive bay (and the only less-than-solid part of the unit's construction); some iXtreamer SKUs include a preloaded drive, but the basic model comes empty for you to fit your own. A pair of drive rails and the necessary screws are supplied, and up to 3TB HDDs are supported (with the current latest firmware, v2.6.0). It's worth noting that you don't actually need an internal HDD in place in order to use the iXtreamer; you can also stream content across a network instead.
That's courtesy of the 10/100 ethernet port, which shares a crowded rear panel with two USB 2.0 Host ports, a single USB 2.0 Device port (for hooking up the iXtreamer to a computer and accessing its internal drive), HDMI, composite and component audio/video, and optical/coaxial digital audio outputs. No integrated wireless, but Xtreamer does offer a USB WiFi b/g/n adapter separately.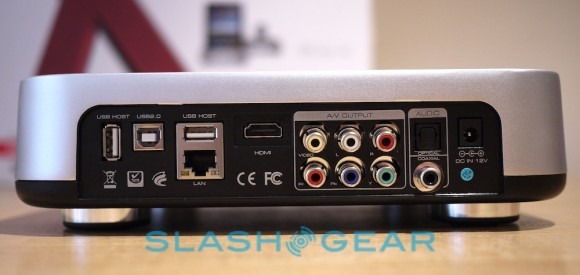 On the bottom is a 50mm fan, which generally remained relatively quiet. Xtreamer offer an optional IceCube passive cooler kit in case the fan noise is still too frustrating, and which basically slots in instead. The IceCube was not supplied with our review unit.
As well as the iXtreamer, there's an HDMI cable, composite video cable (though not component), the drive mounting kit, iPhone dock adapter, a USB cable for mounting the iXtreamer as an external drive, and the PSU (which came with a European power cord, despite this being a UK unit). There's also a comprehensive remote (including batteries) which is a big improvement over the tiny credit-card sized zappers most iPod docks get. It's not exactly handsome but it's full-featured, and the buttons glow in the dark; you can even use it to turn off the LED indicator light on the iXtreamer itself.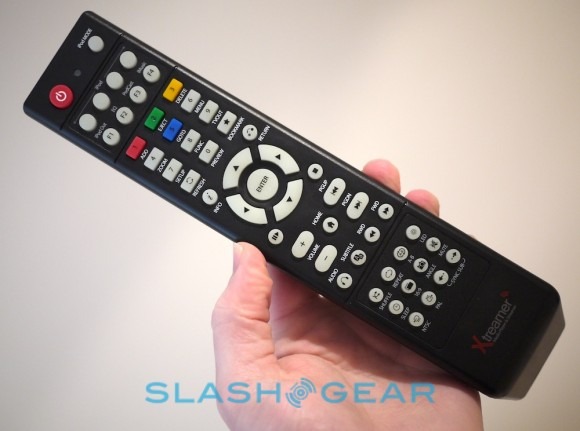 Software
Unlike most iPod docks, the iXtreamer is really several products bundled into one. At its most basic, it's offers access to audio, video and photos stored on the iOS device docked on top, but there's also a separate streaming, internet video and multimedia jukebox component, Xtreamer, with its own firmware.
The basic functionality is straightforward: dock your iPod, iPhone or iPad and it starts charging; hit the iPod Mode button on the remote (or choose Dock from the main menu) and you can choose from audio, video or images. The former work as you'd expect, offering a regular list of what titles you have stored on the iOS device, and you can also load playlists (including Genius playlists).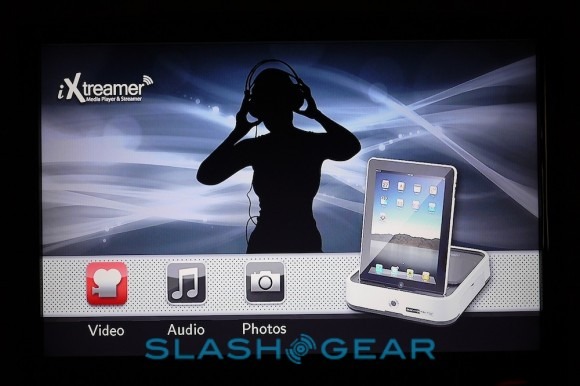 Photos are less successful. For a start, you can't simply browse the various albums on your device; instead, you have to choose a slideshow, get it playing, and then the images will display on your TV. Once it's running, you can pause it or skip forward or back through the images, and background music can also be heard; however, if you want to change album, you need to go back to the iPad display and do it there. We're also unimpressed with the resolution the iXtreamer shows images: while the system UI is smooth and jag-free in 1080p mode, the slideshow images look to be shown in the same resolution that the iPad displays rather than their full quality, meaning it's jagged and uninspiring.
The Xtreamer software, meanwhile, is a whole lot more complex. Our review unit came running v2.5.0 but that had already seen at least two incremental updates at Xtreamer's site. We had a few headaches dealing with the firmware update process; the automatic on-device updater wouldn't recognize a network connection, so we turned to the manual download of v2.6.0 instead. Unfortunately, unzip the file on a Mac and splits it into multiple separate files, which the iXtreamer can't handle. Instead, we had to use a PC to unzip as a single .IXTR file.
The basic homescreen has six options, Favorites, Media Library, Dock, Xtreamering, File Manager and Settings. Along the bottom of the display, the IP address (assuming you have a network connection) and status icons are shown, illuminating when there are USB drives attached, network shares, an internal HDD, network connectivity and other system elements. The settings page is comprehensive, though all we needed to tweak initially was the output resolution (which sensibly defaults to the 480p lowest common denominator) to suit our TV. However, there are options for subtitles (with user-assignable fonts), slideshow transitions, aspect ratio, brightness/contrast/hue/saturation, Dynamic Noise Reduction and more, including a choice of DTS/Dolby TrueHD/Dolby D+ audio, DTS/Dolby D 2.1CH audio, or AAC/FLAC/OGG 5.1CH audio. You can also toggle on or off the NAS, UPnP streaming, web server and FTP server functionality.
Favorites is populated by your own shortcuts to most-accessed sources, along with your recently viewed media. Media Library, meanwhile, offers the full range of sources, depending on what you have hooked up or shared to the iXtreamer. As well as USB and internal HDD access, there are network shares, internet content, UPnP streamed media, content on Xtreamer's own eTRAYz NAS, iRadio and DVD playback, the latter assuming you have a USB DVD player plugged in.
We were successfully able to play content both from a plugged in USB drive, an internal drive in the iXtreamer's HDD bay, and across a wired network connection (we didn't have the official USB adapter). The company's main selling point is the range of codecs and formats it supports, at up to 1080p Full HD resolution and with various audio codecs to match:
Video containers:
MPEG1/2/4 Elementary (M1V, M2V, M4V)
MPEG1/2 PS (M2P, MPG)
MPEG2 Transport Stream (TS, TP, TRP, M2T, M2TS, MTS)
VOB
AVI, ASF, WMV
Matroska (MKV) (H.264)
AVC HD
MOV (H.264), MP4, RMP4
FLV – Flash Video
VP6 Codec h.264 Streaming FLV
Video codecs:
Audio containers:
AAC, M4A
MPEG audio (MP1, MP2, MP3, MPA)
WAV
WMA
FLAC
OGG
RMP4
FLC
PCM
PLSX
Audio codecs:
Audio Down Mix : DTS, DTS-HD MA, DTS-HD HR
Audio Passthrough 5.1 CH : DTS, DTS-HD MA, DTS-HD HR 5.1 CH -
Audio Passthrough 7.1CH – Dolby TrueHD , DTS HD-MA
Photo formats : JPEG, BMP, PNG, GIF, HD JPEG
Other formats: ISO, IFO, FLV, RM, RA, RAM
Subtitle formats : SRT, SMI, SUB, SSA, IDX
Streaming formats : RTSP, FLV, FLV HD (VP6)
We had no issues with ISOs, HD MKV files, AVI and MP4 clips we'd downloaded or ripped, all playing back smoothly and offering full fast-forward/slow-motion control (down to half-speed or up to 32x in various increments). The quality was on a par with what we've seen from a regular DVD or Blu-ray player, or indeed an HTPC hooked up via HDMI. Best of all, even with HD footage the fan was relatively quiet and unobtrusive.
Xtreamering is actually made up of multiple apps, many of which are developed by the Xtreamer community. By default some come uninstalled, too, which led to a few hiccups from the off; each can be loaded individually, and while some downloaded with no problems, others were unable to find the required installation files and threw up network errors. A global install option failed, despite other apps finding the network connection with no problems. After each (successful) installation the box restarts.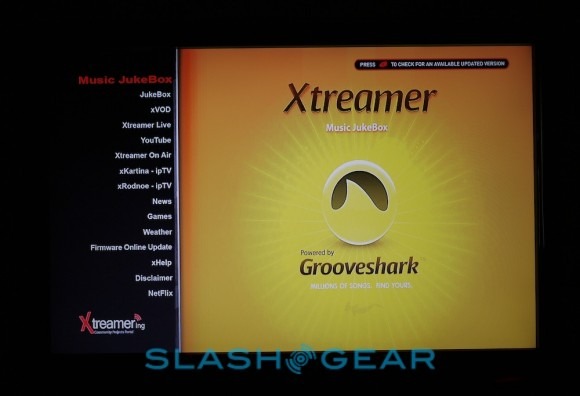 Of those that worked, the experience was generally good. The News app has content from BBC, CNN and others, pulling in text-only stories (with a thumbnail image) which can be browsed first by headline and then the full story shown (albeit with an intervening "summary" stage which seems to serve no real purpose). The YouTube player, like we've seen from smartphone YouTube apps, allows for searches, browsing the recently added, most watched and most highly-rated clips.
YouTube isn't the only streaming video, however. There's also content from IPTV feeds like the TED talks and from MAKE, as well as a "Golden Oldies" channel that promises full length classic movies. The problem again is that this unofficial content has a habit of disappearing after it's been uploaded; some movies worked, others didn't, but none had thumbnails in the gallery, instead leaving you to navigate by the tiny text at the bottom of the screen. Without search functionality, you're left paging through a few hundred screens, hitting play and hoping the stream will work. A Netflix option at the bottom of the page got us excited, but all it says is "Comming [sic] Soon."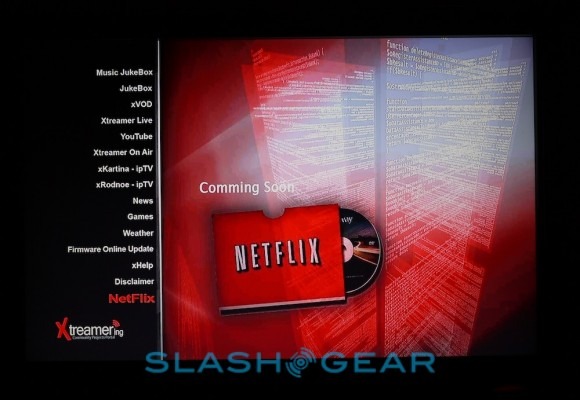 Wrap-Up
The iXtreamer is an interesting mixture of hardware and software, some elements more successful than others. Although it's billed primarily as an iPhone/iPod/iPad dock, that functionality lacks the simplicity of more dedicated rivals; viewing photos from an iPad seemed particularly inelegant. Still, it works, and iPad-compatible docks are still relatively rare compared to their iPod/iPhone brethren. Xtreamer hope to add iOS app support, but all that depends on Apple and we can't see that it's especially likely at this stage.
The Xtreamering software also feels like a work in progress, perhaps because it actually is. As with any community-led media player environment, it can be broken and over-ambitious in places, together with functional and useful in others. The YouTube viewer is straightforward to use, while the news app is surprisingly good; frustrating installation processes threaten to sour the overall experience, however. If you view it as an added extra, on top of the solid media playback base, then it's an interesting project worth keeping an eye on, but we wouldn't buy the iXtreamer solely for the Xtreamering functionality.
That leads up nicely to the iXtreamer's real strength: its abilities as an HTPC replacement. There's no live TV, nor Netflix, Hulu, iPlayer or 4oD, but you do get a huge range of codec support that should handle just about any media file, disc or stream you can throw at it. The internal hard-drive bay – which handles up to 3TB with the latest firmware – is a great option, and given you can also stream content locally and as an FTP server from files hosted on the iXtreamer, it makes for an excellent media NAS too. A BitTorrent download client would be a nice touch.
Xtreamer has plenty of ideas for where the iXtreamer might develop – there's apparently an Opera browser port in the works, complete with Flash support – and seem prompt in their release of new firmware versions, addressing bugs and adding features as they go. Even if you don't need the iPad/iPhone functionality, you can get the same core hardware and software in other units, like a DVD player or a standalone streaming box. As with most HTPC-style media players, this isn't for the faint of heart, and there are easier ways to view the most common files (on your computer, on your iPod or on an external drive) with your HDTV, but they generally lack the iXtreamer's huge flexibility and upgrade potential. If you've the patience to work around the half-baked elements, and a demanding media library to play, at £159 ($258) the iXtreamer is a whole lot more affordable than a dedicated media PC.
Thanks to Advanced MP3 Players for the loan of the iXtreamer