iWork update features new editor design and better sharing options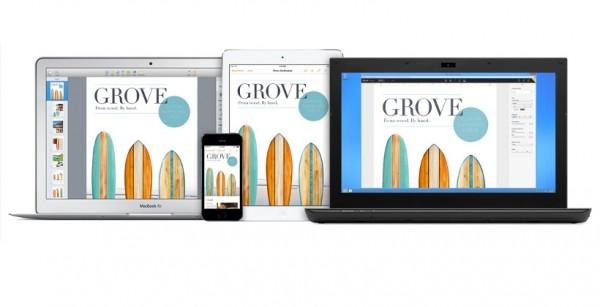 Apple has just pushed out a major update to the three core members of its iWork productivity suite. This latest versions of Pages, Numbers, and Keynote include a ton of features that improve the user experience in both the editing process as well as in sharing documents.
It might just be a coincidence but the timing couldn't be more perfect. Last week, Microsoft embarked on its quest to regain lost ground by releasing its Office suite for the iPad as well as for Android. Now Apple is rolling out updates to iWork on all of its supported platforms, ensuring it remains king of the hill in its own corner of the productivity world.
Of course, majority of the new features have to do with creating or editing documents, though some of them are limited to certain platforms. For instance, Pages for Mac now lets your reorder and duplicate sections directly from the page navigator. On iOS, Pages gets improved support for bi-directional text, which should be great news for those that use right-to-left (RTL) languages. Keynote for iOS now has a remote control feature that lets you control slides on other devices. The Mac version sports new build animations like Droplet and Grid as well as transitions such as Confetti and Fall. Numbers now lets Mac users create headers and footers for printing and features a new progress indicator for calculations on iOS.
One major highlight of this update is the web version of these three apps. iWork for iCloud has been designed with a brand new look, particularly in the document editor. It can now also open documents directly from iCloud Mail. Common to all versions of the iWork apps is a new "view-only" sharing option. Previously, anyone you shared a document with via iCloud could also edit the file. Now you can mark them as read-only to limit sharing to viewing purposes only. Users can also set up passwords on documents to ensure that they can only be viewed by authorized recipients.
The updates to Pages, Numbers, and Keynote first appeared on iWork for iCloud with a note that Mac and iOS will be coming later. Now Apple has thrown the switch and the new iWork apps are now available for users on all platforms to enjoy.