iTunes scam drives dodgy App Store sales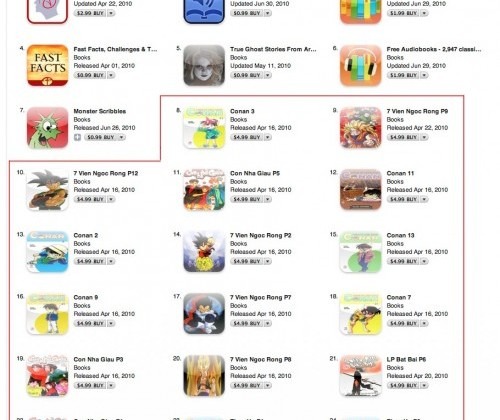 Bad news for many iTunes users this weekend, as Independence Day saw their Apple accounts – complete with credit card details – liberated and used to drive sales of various hitherto-unknown apps up in the download charts.  TheNextWeb spotted growing numbers of complaints on Twitter regarding unauthorised charges made to credit and debit cards associated with iTunes accounts, which have been used in the App Store to buy various apps from multiple developers.  Some users have reported as much as $1,400 being charged to their accounts.
The issue initially appeared to be a single developer attempting to push his own titles up in the rankings, leaving fake positive reviews in among complaints so as to convince other, legitimate users to buy the apps as well.  However it soon became clear that a much larger scheme was in operation, spread across multiple developers – all of whom have been based in Asia and with minimal contact information – and buying both expensive apps and in-app purchases.
It's unclear at present exactly how many users this has affected, and indeed what Apple's response will be.  The company is yet to issue an official comment; support services have advised iTunes users to change their password, but the particularly cautious might want to remove their credit card details from the account as well until we have a better idea of what went on.
[via Twitter]