iTunes Radio Could Push Thirteen Ads An Hour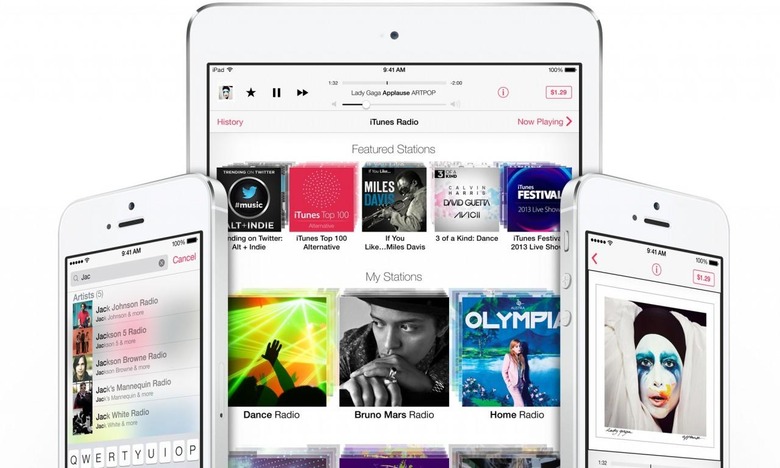 iTunes Radio users without iTunes Match subscriptions can expect to hear around thirteen adverts an hour, with brands like McDonald's, Nissan, and Pepsi inking deals with Apple to put their marketing front and center in the new streaming media service. Added to both iTunes 11.1 and iOS 7, each of which was released earlier today, iTunes Radio takes on Pandora and Spotify Radio with themed streaming music supported by one video advert each hour, along with three additional audio adverts every 15 minutes.
Of the initial line-up of advertisers, Pepsi is reportedly the biggest spender. The drinks company has signed up for its own Pepsi-branded channels, Billboard reports, four of which – covering pop, country, latin, and electronic music styles – are currently playing under the "Pulse of Now" branding.
However, those four will be followed up with channels from "multiple food and beverage brands" from Pepsi's portfolio later in the year, the company has confirmed. Details of the exact spend Pepsi has made on iTunes Radio promotions have not been revealed, but Apple is believed to be requiring a minimum commitment of $1m from each advertiser.
There's also a 12-month minimum contract, though Pepsi is supposedly signed up through until the end of 2014. One of the company's first video adverts will be a version of the Pepsi advert featuring Beyonce.
According to PepsiCo's CMO of global consumer engagement, Frank Cooper, talks with Apple over iTunes Radio sponsorship began back in 2012.
"The data and the engagement that they have across the entire iTunes platform, the devices that they have and the creativity that they have in terms of delivering a complete, holistic experience for our music gives us the confidence that this could become a critical piece of the broader picture in engaging music fans and our own consumers around music" Frank Cooper, CMO of global consumer engagement, PepsiCo
What remains to be seen is how many free listeners that Apple can convert into iTunes Match subscribers, which comes in at $24.99 per year. The company will presumably attempt to strike a balance between pushing Match and keeping a healthy audience for its advertisers; Apple is yet to suggest how many users it expects to sign up to iTunes Radio.
There's more on iTunes Radio and how it works in our iOS 7 review.