iTunes & AppleTV updates adds Genius, bug-fixes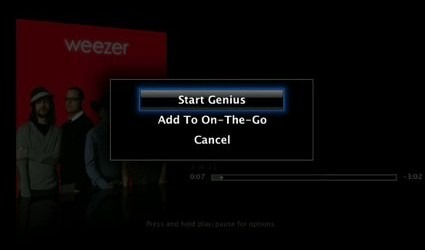 Apple has quietly updated both iTunes and AppleTV overnight, introducing mainly bug-fixes for both products but also adding Genius intelligent playlist creation to their set-top box.  The iTunes update, which takes the app to v8.0.1, cures a particularly annoying bug whereby high-definition episodes of TV shows were replaced with standard-definition copies.
It also tweaks Genius playlist creation in iTunes, so that choosing to start a new playlist does not stop the current song from playing.  To access the new Genius playlist functionality on the AppleTV, hold down the play/pause button on the remote control and a "Start Genius" option will appear on-screen (together with the ability to add the track to an on-the-go playlist).
The fix also addresses a security concern whereby a "maliciously crafted movie file may lead to an unexpected application termination or arbitrary code execution".  If your AppleTV has not automatically updated (it checks weekly) you can manually trigger it by going to Settings > Update Software. 
[via TUAW]