iTunes 9 getting Apple Social app integration?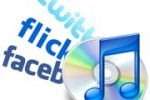 According to the latest BGR tipsters, the upcoming iTunes 9 upgrade promises more than just pinging social networks with what track you're listening to.  Their source is suggesting that Apple are developing a "Social" application which will tap into iTunes' functionality; this new app will consolidate multiple social networks, such as Facebook, Flickr and Twitter, and allow you to share music with those you are connected with.
The app – which will be separate from iTunes, but about which little else is known – will also allow for synchronized changing of status across multiple network platforms, broadcast what music you're listening to, and "connect with your friend's friends".  No word on when this new software might be launched, however.
More detail on iPhone and iPod touch application organization has also been leaked.  Apparently users will be able to sort their downloads alphabetically, by genre or by date added, as well as into custom layouts, all from iTunes on their desktop.