ITG xpPhone preorder promises AT&T, Vodafone or Orange 3G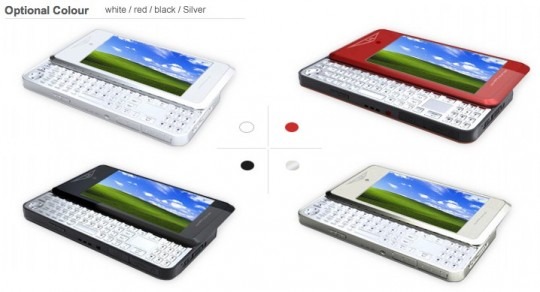 ITG have launched a preorder page for their distinctive xpPhone, promising support for "the global three major 3G standards" from its integrated 3G chip.  Still unpriced, the xpPhone has a 4.8-inch 800 x 480 touchscreen, AMD processor, WiFi b/g and Bluetooth, together with a slide-out QWERTY keyboard.  Unlike most smartphones, though, the xpPhone runs Windows XP.
There's also both SSD and hard-drive based storage onboard, rather than a choice between them; the xpPhone can have up to 64GB of flash and 120GB of HDD, with the former promising power-frugal use while the latter, ITG says, offers the "full internet experience".  Three modem versions are on offer – "Vodafone", "AT&T" and "Orange" – though there's no indication of which bands each choice provides.
Color options are white, red, black and silver.  To be honest, while we know the xpPhone is not vaporware – after all, we saw video demos of it from Computex – we can't imagine many of these will find their way to the US or Europe.  A lot will hinge on pricing, after all; can ITG really deliver a reasonably high-end spec for the sort of SIM-free figure people will comfortably pay?
[via Pocketables]