IT Crowd bonus "Final Episode" promised for 2013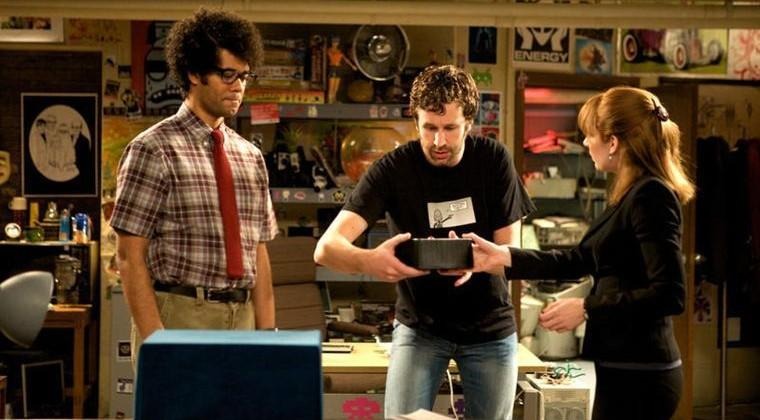 Though it's not as good a another full season, the creator of the cult-classic geek comedy "The IT Crowd" has promised one more episode for the fans. This comedy ran for a total of four seasons starting back in 2006, starring Chris O'Dowd, Richard Ayoade, Katherine Parkinson, Matt Berry, and for a single season (with some guest appearances throughout), Chris Morris. Each of these comedians have found relative success since the end of the original series run.
It was at the German re:publica digital conference that a Q&A session saw The IT Crowd writer and original creator Graham Linehan announce a final episode. This final episode was promised to be a lovely 40 minutes long – right around twice the length of a standard episode – and will contain at least the main four members of the cast.
According to Linehan, the script for this Very Special episode was prepared over a year ago but was delayed until now due to a collection of reasons, pregnancy to alternate obligations. The final episode is set to be filmed in three weeks time, according to Bleeding Cool, and may not end up appearing in any sort of final form until quite a bit later this year.
Since appearing in The IT Crowd, Richard Ayoade has appeared in Bunny and the Bull (in 2009, during the series), Noel Fielding's Luxury Comedy, Full English, and the made-for-America comedy movie "The Watch." Matt Berry is perhaps best known for his appearances in other cult-classic British television shows like The Mighty Boosh and Snuff Box, but has ramped up appearances in titles like Snow White and the Huntsman, Portlandia (TV series), and Svengali.
Katherine Parkinson appeared in The Great Outdoors, The Old Guys, Whites, and The Bleak Old Ship of Stuff in extended runs on television and popped up in several movies in the past few years as well. You'll find Parkinson in Easy Virtue, Pirate Radio, and How to Lost Friends & Alienate People as well.
Chris O'Dowd has perhaps seen the biggest amount of success on television as well as the silver screen, having appeared in the Kristen Wiig comedy movie Bridesmaids in 2011, television shows such as Family Guy (voice), Moone Boy, Girls (yes, that Girls), Family Tree, and Monsters vs. Aliens (voice). He appeared in the film This is 40 and is part of a set of films coming out in the next couple of years: Hippie Hippie Shake, Epic (voice), Cuban Fury, Calvary, St. Vincent de Van Nuys, The Coward, and Thor: The Dark World!