IT Chapter Two Final Trailer released: Balloons and blood!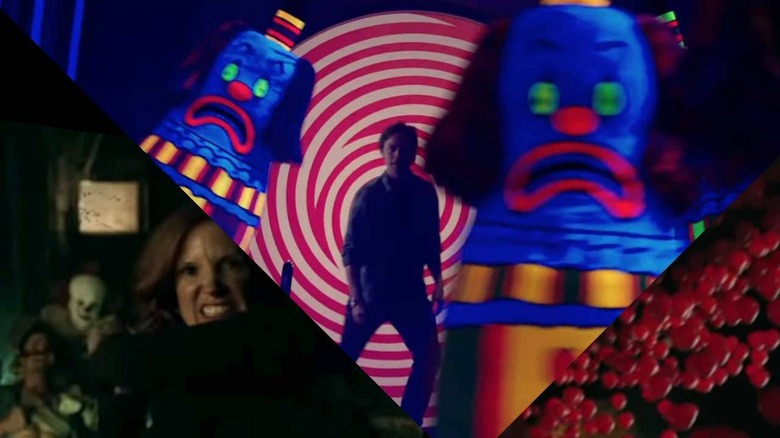 When you watch the IT Chapter Two final trailer in a moment, make sure you're sitting down. Also make sure you've not just eaten something that's likely to come back up if you see anything less-than-appetizing. "For 27 years, I've dreamt of you," said Pennywise the Dancing Clown. "I craved you. I've missed you."
This next trailer is gruesome. It's not the sort of thing you watch just before you go to sleep. It's been launched at the head of Comic-Con to make sure nobody has the stomach for any superheroes over the next several days. DO NOT WATCH this trailer with any small children in the room.
This film picks up where the last one left off. Much like the book IT by Stephen King, this story continues to follow the lives of the Losers Club – the kids who encountered and seemed to defeat the entity known as Pennywise. It's not immediately clear whether the second film will continue to follow the book as the first sorta kinda did.
This second film will feature the young versions of the characters (with their actors) and the old. This means Young Richie played by Finn Wolfhard and old played by Bill Hader. Young Beverly played by Sophia Lillis and old by Jessica Chastain.
Young Bill is Jaeden Martell, and old is James McAvoy. Young Jack Dylan Grazer and old is James Ransone. Young Stanley is Wyatt Oleff, and old is Andy Bean. Young Ben is Jeremy Ray Taylor, and old is Jay Ryan. Chosen Jacobs is young Mike, and Isaiah Mustafa is the elder.
Also in the cast are Jake Weary, Javier Botet, Xavier Dolan, Jess Weixler, Will Beinbrink, and Troy James – whom we can safely assume will be twisting his body into knots, since he's capable of INHUMAN things, in that way.
This film also stars the same actor as Pennywise: the monstrous Bill Skarsgård.
This film will be released to theaters on September 6, 2019 in the USA. Indonesia will somehow get an earlier release date, on September 4, and September 5 will be the release date for a whole BUNCH of locations, including Argentina, Australia, Brazil, Germany, Greece, Hungary, Italy, Kuwait, Netherlands, New Zealand, Philippines, Portugal, Russia, Singapore, and Slovakia.
On the 6th, every location will have the film save Hong Kong, France, and Japan. Hong Kong's date is September 12, France is September 18, and Japan is... November 1st. That's harsh!