"It all works together as you would expect it to" says Windows 8's Leblond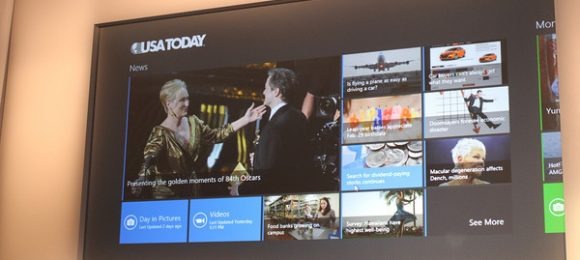 Assuring the public today in Barcelona at the Windows 8 Consumer Preview during MWC 2012, Antoine Leblond of Windows Web noted that, of course, "the desktop is still there." The Windows 8 Consumer Preview was shown at this event on a Samsung tablet, a Lenovo notebook, and an Acer all-in-one desktop with a touchscreen interface. What we've seen here is that it's easy to use touch, it's easy to use your mouse, and it's easy to use both!
When you sign in to your Windows 8 interface, you've got your sign-in screen, showed Julie Larson-Green of Windows Program Management on the Acer desktop with touchscreen interface, and the entirety of the interface is able to work with Metro-style interfaces as well as a classic Windows 7 user interface – to a degree. You can browse inside of apps, you can search inside of apps, and you can browse and search inside your greater system. Using your Charms to the right of your display, you're able to search inside your apps – you'll have pinned apps there such as Internet Explorer, stores, Mail, music applications, and more – each of these having a searchable interface which is ultra-simple to use.
"When you're browsing through your machine and using each of these apps you'll see – it all works together as you would expect it to." – Leblond
What we're seeing here is that this system is taking the connections between apps to the next level. Much like mobile has done with applications on the whole, making them a brand new much-wanted commodity, Windows 8 seems so far to be bringing apps to the next level not only in the user interface, but in the Store as well. The store shares a stylistic approach with Windows 8 and will make downloading apps more than simple – dangerous for folks with loose pockets!
Feel free to follow along with this event with us through our [MWC 2012 portal] and [Windows 8 portal] today and through the week!