iSkin earTones Earbuds Review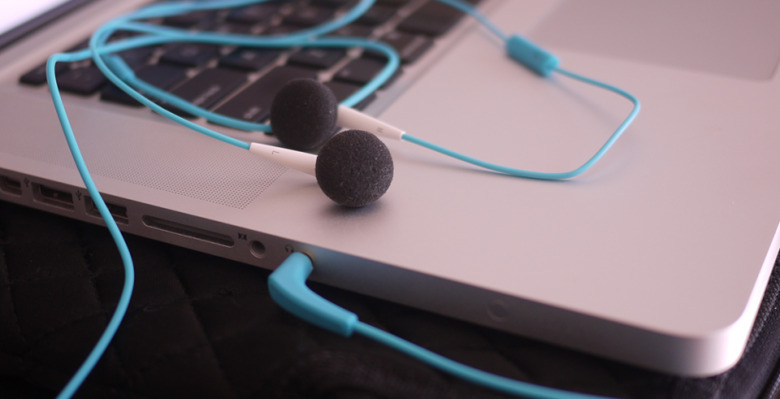 Well wouldn't you know it, we've got a pair of earbuds for you to be checking out. This particular pair comes from iSkin and goes by the name earPhones, having the ability to not only allow you to listen to your devices in complete solitude with bright fancy colors popping all the way up and down the cord, but also the courtesy of having Microban antimicrobial protection on and around the buds and the mic this set features so you'll not have to ever worry about fungus and bacteria again.
This set of buds also works with an inline remote that allows you to control the music player you're using on your device and to receive and make phonicalls if you're using an iOS or BlackBerry powered handset. This track flipper also conveniently works with Android and Mac OSX devices such as the MacBook Pro (Spring 2011 edition) pictured above and below. The earbuds also feature what they're calling FlexFit necks for the comfort of your ears.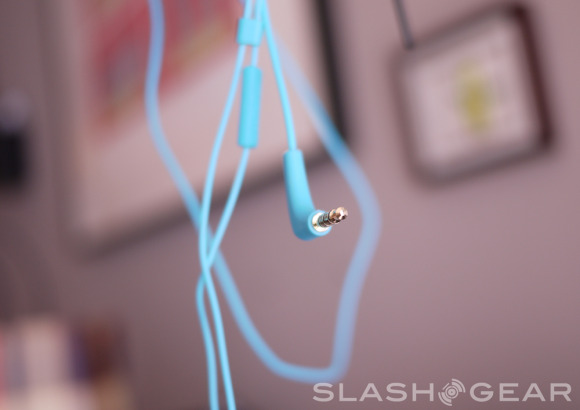 First Impression
What I received here was a pair of the Blue/White earTones used in the ads you may have seen recently. Upon close inspection of the packaging I found that though the advertisements and store displays showed the buds to be without covering, they did indeed have some simple black lobe protection with a couple of backups sitting there waiting for me. This is good because, if you know me and my ears, you know I give earbuds tough judgement because my drums don't take to them very well.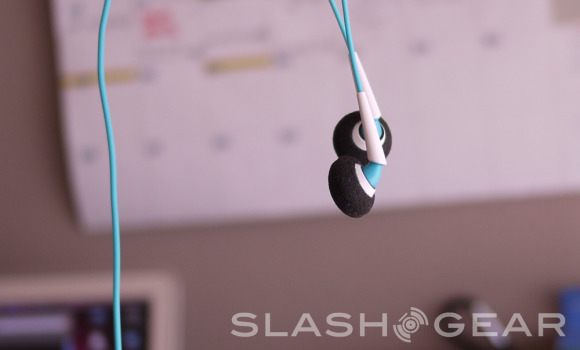 Sound Quality
Like most devices, and peripherals, if you take these buds by themselves, if you're in a situation where you need some earbuds and you've got the choice between these and nothing, you'll be satisfied unless you've got another option. These buds sound OK. They're certainly not the greatest quality in the world, but they're not the worst I've ever experienced. The quality in these earbuds, sadly enough, is not in the sound quality at all, but in the features they present beyond that. One of the big reasons behind this is the fact that they literally do not sit in the ear very well. This is what I'd call an old design where clearly the new design for earbuds, that one you see back in the last earbud review we did with the AUDEO PFE 022 + Mic Earbuds, that's where the future is.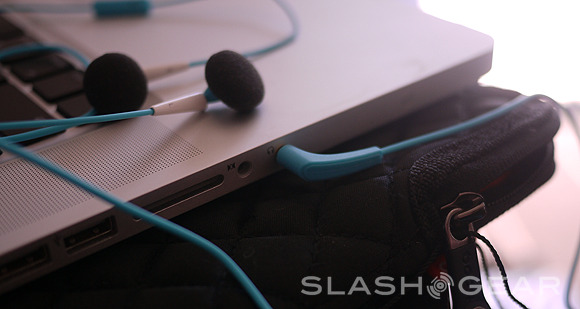 Comfort / Usability
These earbuds come with several little rubber coated features on them, the first of which is the two-cord capture piece that appears right after the two phone wires split. This is nicely made for what it is, with a little slit along one side so you have the option of doing without it. Then there's the mic bit which also has the control button in it. The mic works reasonably well for a mid-range mic on a pair of earbuds, but don't expect it to outdo the amount you payed for it.
The button on the other hand is pretty slick. Press it once to stop the music, press it again to play, and double-press quickly to skip to the next track. This same functionality works in most music players basic manufacturer-added music player in the same or very similar ways.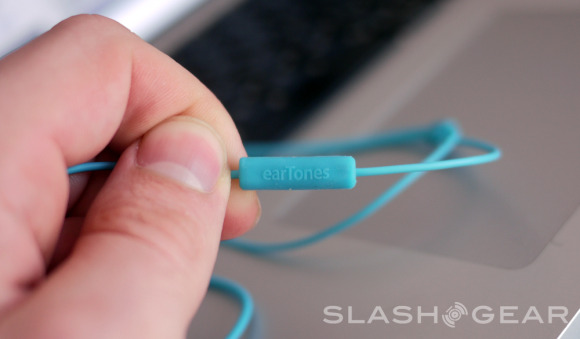 Verdict
These earbuds are mid-range. They're not quite worth $40 if you have a choice between these and a pair of AUDEO earphones or Skullcandy, but should you be in an airport with the choice between these and a pair of plastic pieces of junk to purchase, your choice should certainly be these. They've got some cool features, you can get them in a variety of colors, and they're promoted as anti-baterial, fighting off germs. They're not quite as bright as they say they are, but they are bright.